Most People Have No Idea This Underwater City In Maine Even Exists
Maine's history just might be the most interesting in the country. From legendary war generals to well-known authors to poets that loved our state as we love it today, there's a lot to learn about Maine. The people who have come before us have helped not only shape this state but also shape the people we are as Mainers. It's important to remember this history, even when it's not happy. The story of this underwater city in Maine is a perfect example.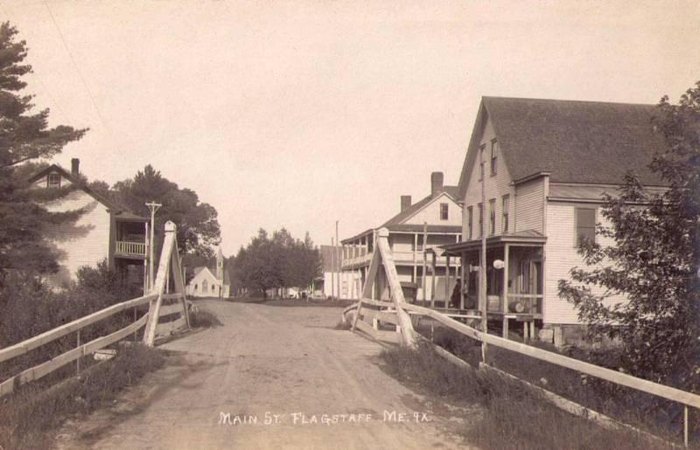 Watch this video footage of Flagstaff Lake by YouTube user Andrew Nesbitt, and imagine the ruined town lying beneath its waters:

The Dead River Area Historical Society is a wonderful resource for remembering these lost communities. Visit the Dead River Area Historical Society Facebook page to see its collection of photos and information.
Want to read about another community completely disappeared from an area of Maine? It's the Malaga Island mystery and it's quite a famous Maine tale!
OnlyInYourState may earn compensation through affiliate links in this article.
More to Explore
Underwater City In Maine
Are there other abandoned places in Maine?
For curious folks looking for a bit of adventure, there are lots of abandoned places in Maine worth exploring. A Civil War-era monument of crumbling granite and wild brush, Fort Gorges stands sentinel in the Casco Bay, guarding the entrance to Portland Harbor, and has captured Mainers' imaginations for decades.
Another iconic abandoned place in Maine, Battery Steele is a military fort located on the oceanside area of Peaks Island in Casco Bay. Some facts about Battery Steele:
The fort was built in 1942 as part of efforts to support World War II.

The Army first used the site in the early 1900s. During World War I, the Army built a searchlight shelter, a generator building, and one bunker as part of the Portland Harbor Defenses.

During the World War II era, the Army constructed Battery Craven, Battery Steele, a control bunker, and five observation towers at the site.

In fact, for its historic

significance, Battery Steele was listed on the National Register of Historic Places in 2005 and is a truly fascinating place to explore today -- just please be careful.
Are there any unsolved Maine mysteries?
Cue the opening to "Unsolved Mysteries" because there are some truly mind-blowing unsolved mysteries here in Maine! These cold cases include the Joyce McLain and Mary Catherine Olenchuk murders, plus a few high-profile disappearances and abductions in the '70s and '80s.
Going further back, the disappearance of Charles Nungesser and Francois Coli had officials in 1927 scratching their heads. As the story goes, in 1927 Nungesser and Coli planned one of the first trans-Atlantic flights. They took off in "The White Bird," a Levasseur PL.8 bi-plane in an attempt to reach New York. They were last seen off the coast of Ireland.
In the 1980s, reports began to surface that the duo may have made it all the way to Maine before disappearing. A hermit living near Round Pond reported hearing the sound of a sputtering plane nearby in early May 1927. Others also reported having heard the unmistakable sound of a crash in the area. A search began and soon wooden struts (not typical for the area) were found. Soon after this discovery, residents claimed that a motor had been dragged out of the woods and was used for logging.
The only things never found were the bodies and any sign of the plane's fuel tanks. While the current hypothesis is that the pair ran out of fuel and was forced to crash land in Maine, no one has ever truly confirmed this. Why were pieces of the plane found, but no bodies? Where did the fuel tanks disappear to? These questions still remain. As Robert Stack says, "Join me. Perhaps you may be able to help solve a mystery."
Related Articles
Explore Maine
Featured Addresses

Flagstaff Lake, Maine, USA