Take This Road Trip Through Maine's Most Picturesque Small Towns For A Charming Experience
If you like road trips, it's no wonder you love Maine. Despite having pockets of population mixed with vast areas of wilderness, we're actually a pretty great state to explore via road. Our beautiful nature makes themed trips to outdoor attractions easy and our lovely coast makes for a scenic way to spend a weekend. Today, we have another of our unique themed road trips in Maine for you, and get ready, because it's one of the best! Rather than set your GPS for attractions, we're taking you through some of the most picturesque small towns in Maine. You'll love getting a sense for how different places live and we encourage you to stop along the way for tasty treats at some local spots. And, as always, we've mapped the entire trip for you on Google Maps. Let's go!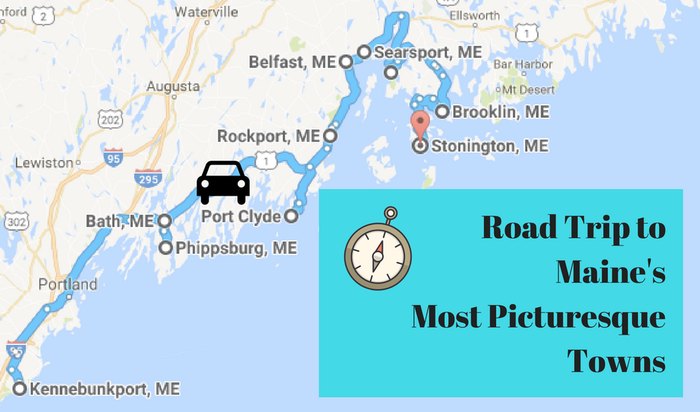 Now that you've got the road trip wheels turning (see what we did there?!), you're ready to check out some more of the best road trips in Maine. We have a waterfalls road trip, an abandoned places road trip, and even one for Maine's lighthouses! Happy exploring!
OnlyInYourState may earn compensation through affiliate links in this article.
Best road trips in Maine
July 31, 2021
What are the best road trips I can take in Maine?
Are you looking for the ultimate road trip adventure in the Pine Tree State? We've compiled the best road trips in Maine, and all are amazing adventures that belong on any Mainer's bucket list. From exploring the state's most scenic byways and charming towns, to enjoying the best of the fall foliage in the autumn, to exploring Maine's creepiest locales (this is a fun one for the fall!), you're bound to find an adventure on this list that really speaks to you!
What's the smallest town in Maine?
Beddington, a town in Washington County, is the smallest organized town in Maine. The population was 50 at the 2010 census, and at last check, this number had dwindled to just below 40. It's a lovely little place, however, and definitely worth visiting when you have a chance!
What's the most charming town in Maine?
While we adore all of Maine's small towns, it simply doesn't get more quintessentially East Coast than Kennebunkport. This unassuming beach town is all weather-worn boats and craggy coastlines, whitewashed homes, and unpretentious sea shacks. (The lobster rolls from The Clam Shack are particularly noteworthy, and really a must-try for any self-described foodie.) Kennebunkport has been lauded as one of the best places to live on the East Coast, and after visiting, you might just want to drop everything and move to this charming small town, too.