The Most Delicious Maine Road Trip Takes You To 7 Hole-In-The-Wall BBQ Restaurants
Over the years we've given you ideas for tons of different road trips. From Maine's coolest natural wonders to our state's most unique lighthouses, it turns out there's quite a bit to see here in Maine! We love to sightsee, but there's nothing like making your way through the state to sample the food that helped put us on the culinary map. If that's the type of road trip you're looking for, read on! We've put together an epic road trip that leads to some of the best BBQ in Maine, and will help you love living here even more.
Get the Google Map and start planning your trip!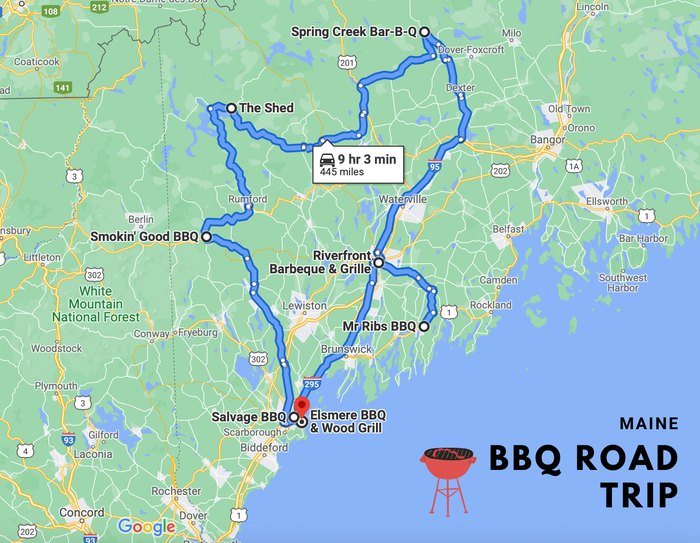 Of course, these aren't the only delicious BBQ restaurants in Maine, but we think this road trip is a pretty good place to start! Do you have any favorite hole-in-the-wall restaurants or BBQ hidden gems that we've missed? Let us know in the comments!
Now that you've enjoyed some of the best BBQ in Maine, it might be time for dessert. This mouthwatering ice cream trail in Maine is the sweetest adventure in the state.
OnlyInYourState may earn compensation through affiliate links in this article. As an Amazon Associate, we earn from qualifying purchases.
More to Explore
Best BBQ in Maine & Related Info
What is the most famous restaurant in Maine?
Maine's dining scene may not be as world-renowned as some, but the state's most iconic food sure is! That said, Maine offers far more to the culinary world than just lobster, and many of its restaurants have earned major accolades for their farm-to-table freshness, wildly creative dishes, and legendary specialties. Here are just a few of Maine's most famous popular restaurants:
What is the oldest restaurant in Maine?
Waco Diner (1924)  is typically considered to be the oldest restaurant in Maine; however, The Palace Diner (1927)  is often given the same title. Some other historic, long-standing restaurants and bars include:
What is the most unique restaurant in Maine?
Quirky, themed, and uber-creative restaurants aren't out of the norm in the Pine Tree State. Check out Grace in Portland for some heavenly dishes served up in a beautifully renovated church. Or, for a modern take on the iconic digs of the 50s, check out Blast From the Past Too Diner in Scarborough - one of a few retro restaurants around the state.
Related Articles
Explore Maine