Hop In Your Car And Take Rangeley Lakes Byway For An Incredible 35-Mile Scenic Drive In Maine
The freedom of the Rangeley Lakes Scenic Byway offers opportunity, fun and…well, freedom! That's why we love road trips so much. Over the years we've given you quite a few fun ones. From covered bridges to ice cream shops, you can turn just about anything into a fun-filled road trip through Maine. But sometimes you don't necessarily need a destination. Today we're exploring a wonderful scenic drive in Maine that will allow you to experience the state's nature and views.
Visit Google Maps for full directions from your own starting point.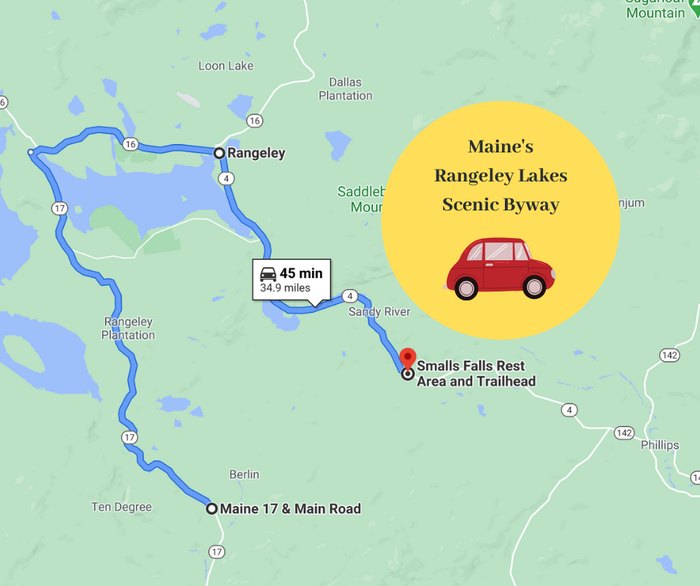 The Rangeley Lakes Scenic Byway is short enough to complete in an afternoon but long enough to make it feel like an adventure. Have you taken the best scenic drive in Maine? If so, let us know your favorite stops along the way!
For some road trip adventures on a more rural scale check out the 7 best backroads in Maine for a long scenic drive.
Do you have a favorite scenic drive in Maine? Tell us about it on our nomination page, and you just might see your suggestion featured in an upcoming article.
OnlyInYourState may earn compensation through affiliate links in this article.
Address: Rangeley Lake, Maine 04970, USA
Rangeley Lakes Scenic Byway
May 19, 2022
What is the best scenic drive in Maine?
It's impossible to name just one best scenic drive in Maine - the Pine Tree State is a nature lover's dream, and there are so many different roads that lead through our coastal and forest landscapes. If we had to pick, however, one of our favorites is definitely the Bold Coast Scenic Byway. This lovely, 125-mile route leads through beautiful Washington County, skirting along the coastline from Milbridge to Eastport. Some of the most noteworthy sights on the trip include Maine's iconic blueberry barrens, coastal forests, and marshes. There are also plenty of hiking trails, so you can get out and stretch your legs while getting up close and personal with the gorgeous surroundings.
What's the most beautiful hike in Maine?
Much like our scenic drives, Maine also has so many incredible hiking trails that it's hard to choose a favorite. Moxie Falls is definitely one of our top contenders for the most beautiful hike in Maine, though! At only two miles round-trip, this low-key trail leads to one of the highest waterfalls in the state, cascading 90 feet down a rocky hillside.
Does Maine have any natural wonders?
We're firm believers that Maine is the most beautiful state in the U.S. - and we aren't just saying that because we happen to call this special place home. One of our favorite natural wonders in Maine is Acadia National Park, the only national park in the entirety of New England. This wondrous destination boasts hikes along the coast, scenic lighthouses, and one of the most biodiverse landscapes you'll ever have the privilege of exploring.