Get Ready To Bundle Up, The Farmers' Almanac is Predicting Freezing Cold Temperatures This Winter In Maine
Every season in New England is fantastic, but here in Maine, we're always looking forward to winter with a mix of excitement and trepidation. Because the weather can be erratic, it's hard to effectively plan ahead. There are a few things we know we can count on though. Cold, rainy, and grey days are a given. And chilly sunny days almost always pop up as well. Each winter is different; this year, the Farmers' Almanac winter weather forecast says to get ready for some cold days and a few storms.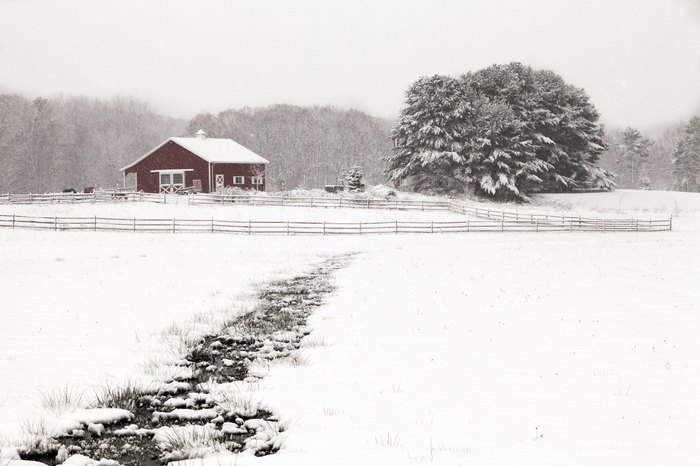 What's your favorite type of winter weather here in Maine? Are you the type that runs outside at the first sign of snow? Or do you prefer to start looking for vacation rentals in Florida? If you plan on sticking around we love the idea of getting outside. In fact, winter in Maine might actually be the best time to hit the beach with these eight beautiful coastal strolls.
OnlyInYourState may earn compensation through affiliate links in this article.
winter in Maine
August 26, 2022
What is winter in Maine really like?
There's no way around it: winter in Maine is frigid. As you learned in the article above, winters often have their fair share of snow, sleet, and positively freezing temperatures. Of course, that doesn't mean you should avoid traveling to Maine in the winter. In fact, Maine is a state that embraces the winter season with festivals, cozy restaurants, and all kinds of winter activities. If you're planning to spend the winter in Maine, it's always a good idea to be prepared. Pack plenty of layers and don't forget your snow boots!
What are the best places to visit in Maine during the winter?
The arrival of winter in Maine often means that it's time to head indoors and stay warm. Unless, of course, you prefer some exhilarating outdoor activities, in which case you will have lots to choose from. We've even put together a list of our favorite winter attractions in Maine. At the top of our list is Reid State Park. Popular during the warmer months, this waterfront destination is a beautiful place to spend a peaceful, chilly day. Or, if you're feeling particularly adventurous, you might consider visiting Acadia National Park in the winter. It's significantly less crowded in the wintertime than in other seasons, so you may feel as though you have the park virtually to yourself. This 47,000-acre national park is the definition of a winter wonderland.
What's the snowiest place in Maine?
Have you ever wondered "what's the snowiest town in Maine?" The answer is a charming destination known as Caribou. This small area broke a record when it got over 96 inches of snowfall in April of 2017. Moreover, in the same year, Caribou saw 132 consecutive days of having over a foot of snow on the ground. You can imagine that lots of fun snow days were experienced here that year. Curious to learn more? Continue reading about what life is like inside the snowiest town in Maine.
What are the best hiking trails in Maine in the winter?
Hiking in Maine during the winter might seem a bit extreme, but trust us when we say it's worth the effort! There are so many beautiful winter-friendly trails in Maine. Some of our favorites include the Osgood Trail in Blue Hill, Wonderland Trail in Acadia National Park, Curtis Cove in Blue Hill, Daggett Rock Hike in Phillips, Reid State Park in Georgetown, Cascade Falls Trail in Saco, Barred Island Preserve in Deer Isle, and the Cataracts Falls in Oxford County. Learn more about these excellent winter hiking trails in Maine.
OnlyInYourState may earn compensation through affiliate links in this article.