When And Where To Expect Maine's Fall Foliage To Peak This Year
With summer on its way out we've got all eyes on a beautiful fall! The weather might still be warm, but soon enough we'll be enjoying cozy sweaters and drinking a warm beverage. And whether that warm beverage involves pumpkin spice (you know who you are!) or it's the same one you drink all year, you can't deny that there's some excitement that comes with the change of seasons. One of our favorite things to look forward to is fall foliage and we just learned what to expect for 2021! The team at smokymountains.com has a proprietary algorithm and using special data points they're able to predict the arrival and movement of fall foliage across the country. Here's what to expect for Maine!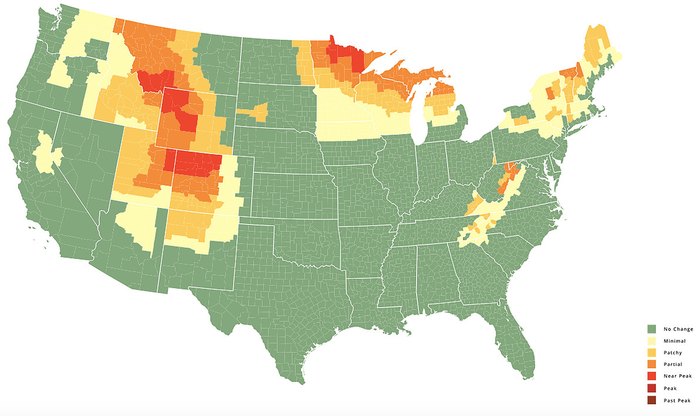 The annual interactive map published by smokymountains.com takes into account a number of factors including historical weather, NOAA precipitation forecasts, elevation, temperature, and average daylight. Their team combines this information with their unique algorithm creating nearly 50,000 data points on the U.S. map. From all of this, we get their interesting weekly forecasts. These predictions aren't 100% accurate all the time, but they're a fun, reliable-enough way to start planning for weekend fall foliage journeys. This year they'll be publishing their first-ever mid-season update so be sure to check smokymountains.com in just a few weeks.
To enjoy the best of the season here are 10 of the most beautiful Maine covered bridges to explore this fall.
OnlyInYourState may earn compensation through affiliate links in this article.
Address: Maine, USA
Address: Millinocket, ME, USA
Address: Camden Hills State Park, 280 Belfast Rd, Camden, ME 04843, USA
Address: Bangor, ME 04401, USA