This Day Trip Takes You To 6 Of Maine's Covered Bridges And It's Perfect For A Scenic Drive
Maine is one of the most scenic states in New England. From the quaint general stores to the beauty of our forests and seaside, you could easily spend a beautiful day in Maine just looking at the things around you. While there's plenty from which to choose, we especially love the covered bridges in Maine. To see a number of them at once, we recommend embarking on our wonderfully scenic day trip. Check out the covered bridges in Maine map below or you can visit Google Maps for the full driving directions.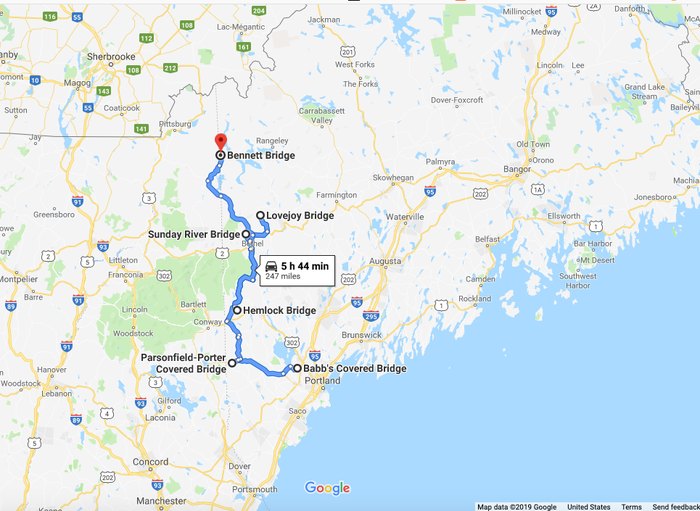 If you're raring to go for this Maine road trip but aren't sure just what you may need to bring along, take a look at our ultimate road trip packing list.
For more bridge goodness, check out this covered bridge hike in Maine.
OnlyInYourState may earn compensation through affiliate links in this article.
More to Explore
covered bridges in Maine
What's the oldest covered bridge in Maine?
Many of Maine's covered bridges date back decades, offering a unique glimpse into the transportation of the past. One of the oldest covered bridges in Maine is known as the Hemlock Bridge. Constructed in 1857, this special destination has been designated as a Maine Historic Civil Engineering Landmark since 2002. It's situated three miles northwest of East Fryeburg.
Does Maine have any haunted bridges?
Yes! Not all of Maine's bridges are as picture-perfect as the covered bridges we highlighted in the article above. Some have a dark and downright sinister story:
One of the most haunted bridges in Maine is known as the Brownville Road Bridge.
Located in Millinocket, this bridge is surrounded by folklore.
The story centers around a young couple that was driving over the bridge in the 1950s when their car suddenly lost control and fell into the creek below.
Miraculously, both the driver and passenger were unharmed.
The husband went to go get help for the car and told his wife to stay put; however, upon his return, the wife had vanished -- never to return.
However, residents of this small town in Maine claim to see her ghostly figure roaming the bridge at night.
She has been nicknamed the White Lady of Millinocket, and her presence is said to be positively chilling.
Where can I go for a scenic drive in Maine?
One of the best ways to experience the vast beauty of Maine is to get in the car and start driving. Maine is famous for its network of scenic byways and backroads, which always make for an interesting route. Some of the most scenic drives in Maine include:
State Route 27 Scenic Byway
Old Canada Road Scenic Byway
The Bold Coast Scenic Byway
Rangeley Lakes National Scenic Byway
The Katahdin Woods & Waters Maine Scenic Byway
The Golden Road Maine Scenic Byway
Pequawket Trail Maine Scenic Byway
Fish River Maine Scenic Byway
Related Articles
Explore Maine