If You Didn't Know About These 10 Swimming Holes In Maine, You've Been Missing Out
Living in Maine means quite a few months of cold weather, followed by a few glorious summer months of fun. From hikes to walks to boating and swimming, there are endless ways to get outside and enjoy those warmer days. We love the beach, but that water can be cold on even the hottest summer days. Lakes are great but often filled with locals and tourists who have the same idea. That's why we love the best swimming holes in Maine. They're often visited only by locals who live nearby, which means less traffic and noise. And, they're certainly a ton of fun! Pack a picnic, grab your bathing suit, and enjoy a day in these cool swimming holes in Maine. The best part is that they're great throughout the year, visit when it's chilly and enjoy a completely different experience by soaking up just the views.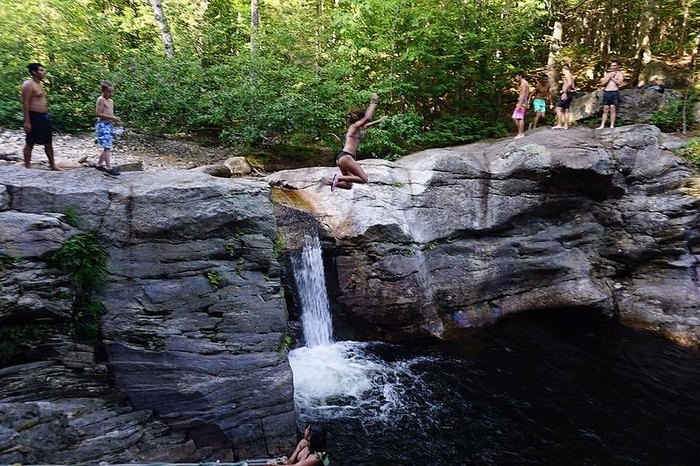 Have you visited any swimming holes in Maine? What did you think? Most importantly, if you have any tips and tricks for a great visit let us know in the comments.
One of our absolute favorite swimming holes in Maine is this one in Oxford County. It's part of a larger gorge and features a hidden waterfall and lots of secret places to explore.
OnlyInYourState may earn compensation through affiliate links in this article.
Best Swimming Holes In Maine
June 03, 2022
What are the best beaches in Maine?
The best beaches in Maine can be found along the entire coast of the state. Some of the most popular include:
Where can I camp on the beach in Maine?
You can camp on the beach in Maine at both lakes and the coast. One particularly great place to explore is Hermit Island, located right Small Point peninsula at the southern end of Phippsburg. Camping spots can be reserved directly on the water and those that are further inland have incredible views. While not on the beach, Sandy Pines Campground in Kennebunkport is located in close proximity. There are plenty of other places to camp on the beach in Maine, so be sure to make plans for your next overnight trip.