The Haunted Bar That's Been Around Since Before Louisiana Was Even A State
Louisiana certainly isn't a stranger to the paranormal. From historic homes to spooky swamps and even haunted oak trees, the Bayou State is rich with ghostly tales of the paranormal. This one particular bar has a fascinating past, and it's been around since before Louisiana was even a state. So next time you find yourself at this historic bar and you think you see something out of the corner of your eye, don't be too quick to brush it off as just a side effect of that tasty beverage you've been sipping on… this haunted bar in Louisiana serves up more than just spirits.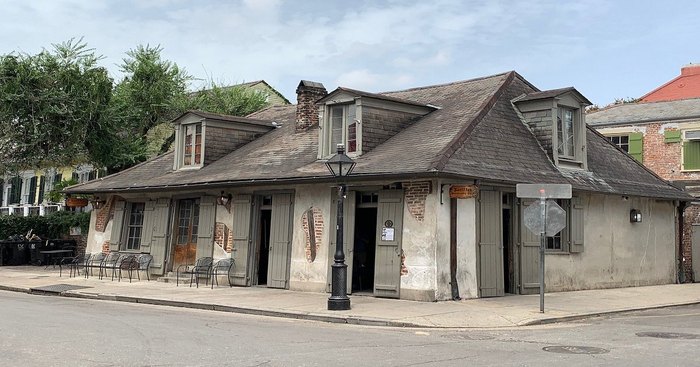 You can find Lafitte's Blacksmith Shop Bar at 941 Bourbon St., New Orleans, LA 70116.
Have you ever had a paranormal experience at Lafitte's or at other haunted spots in Louisiana? We'd love to hear all about your ghostly encounters in the comments below!
New Orleans is known to be a hotspot for the supernatural, so while you're in the area be sure to check out some of the other famously haunted spots in Louisiana.
OnlyInYourState may earn compensation through affiliate links in this article.
Address: Lafitte's Blacksmith Shop Bar, 941 Bourbon St, New Orleans, LA 70116, USA
Haunted Places in Louisiana
May 25, 2023
What are the most haunted places in Louisiana?
Some of the most haunted places in Louisiana include:
St. Louis Cemetery No. 1: The oldest cemetery in New Orleans is home to several notable figures, including the final resting place of the Voodoo Queen Marie Laveau. You'll need a licensed tour guide to enter the cemetery, and during your tour, you'll hear several stories of people who have had paranormal encounters while walking through the cemetery.

 

Hotel Bentley: This hotel in Alexandria was built in 1907 and is reportedly haunted by the original owner, Joseph Bentley, who lived on the top floor. Other guests have reported seeing the ghostly figure of a young woman near the elevator, and another gentleman who is often seen by the grand staircase.

 
Check out this article for even more haunted places in Louisiana. 
Are there any haunted places to spend the night in Louisiana?
There are several haunted places you can spend the night in Louisiana. If you're hoping to have your own paranormal experience, these are some of the most haunted hotels in Louisiana:
The Myrtles: A former plantation that has turned into a bed and breakfast in St. Francisville, many paranormal investigators have spent time here and all of them have confirmed there are many spirits here. The most famous is Chloe, a former slave who her owner killed after she was believed to have been eavesdropping.
The Bourbon Orleans: This hotel in the French Quarter of New Orleans was once a school for girls from the late 1800s to the mid-1900s, and several guests have reported unexplained phenomena on the third and sixth floors, including seeing the apparition of a Confederate soldier pacing the hallways and disembodied sounds of children's laughter and footsteps, even though no one is around.

 
Here are some of the most haunted places to spend the night in Louisiana.