Few People Know The Story Behind Louisiana's Cajun Mardi Gras
When you think of Mardi Gras, New Orleans probably comes to mind, and for good reason. New Orleans is certainly the king of Mardi Gras, attracting hundreds of thousands of tourists from all over the world to experience all of the revelry and pageantry. But there's another version of Mardi Gras that takes place in Cajun Country, and not too many people know of its existence. We're talking about the history of Cajun Mardi Gras, and trust us… it's nothing like your traditional New Orleans Mardi Gras. Let's take a closer look!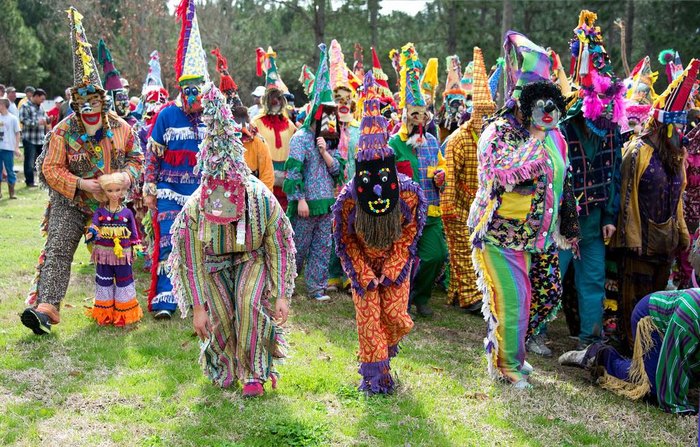 Several towns around Cajun Country have their own Cajun Mardi Gras, including Eunice, Church Point, Mamou, and Iota. To learn more, check out this article from LouisianaTravel.com.
Have you ever experienced a Cajun Mardi Gras? How about any other Mardi Gras celebration in the state of Louisiana? We'd love to read about your experience in the comments section below!
If you're still in the mood for more Louisiana adventures, take a look at this video about the Fontainebleu State Park Tour:
OnlyInYourState may earn compensation through affiliate links in this article.
More to Explore
Adventures in Louisiana
Where are some day trip ideas in Louisiana?
Swamp tours are great because they highlight the state's bayous teeming with a variety of wildlife.
The Shreveport Aquarium features 3,000 sea animals including fish, octopus, sharks, jellyfish, and stingrays.
The Creole Nature Trail is a 180-mile All-American Road highlighting swamps, marshlands, and some 26 miles of Gulf of Mexico beaches.
Read on to learn more about other great day trip ideas in Louisiana.
Where can we find outdoor adventures in Louisiana?
Driskill Mountain features hiking trails and the summit is the highest in Louisiana at 535 feet.
Gators & Friends Exotic Animal Petting Zoo & Adventure Park in Greenwood features ziplines, a raceway, and go-kart track.
Tammany Trace is a 31-mile asphalt trail that goes through five different Louisiana cities, so you'll get a little taste of each.
Read on to learn more about more outdoor adventures in Louisiana.
Where can we enjoy food festivals in Louisiana?
The State Fair of Louisiana in Shreveport is a foodie heaven.
The World Championship Crawfish Etouffee Cook-off in Eunice celebrates one of the state's most beloved dishes.
The Black Pot Festival in Lafayette celebrates Cajun culture and cooking with oodles of food, live music, and more.
Read on to learn more about the many scrumptious food festivals in Louisiana.
Related Articles
Featured Addresses