The Most Affordable Louisiana Road Trip Takes You To 5 Stunning Sites For Under $100
A good road trip doesn't have to cost a fortune. Like we've all heard before, it's about the journey, not the destination. Singing along to your favorite playlist with the windows down, and snacking on your favorite road trip snacks with your loved ones is what it's all about. This affordable road trip through Louisiana will take you to some of Louisiana's most beautiful natural scenery without breaking the bank.
To keep the road trip to a day trip, we're sticking to northern Louisiana, but stay tuned and maybe you'll see a southern Louisiana version pop up! The entrance fee for Louisiana State Parks is $3 per person, so keep that in mind as we make our way to these state parks.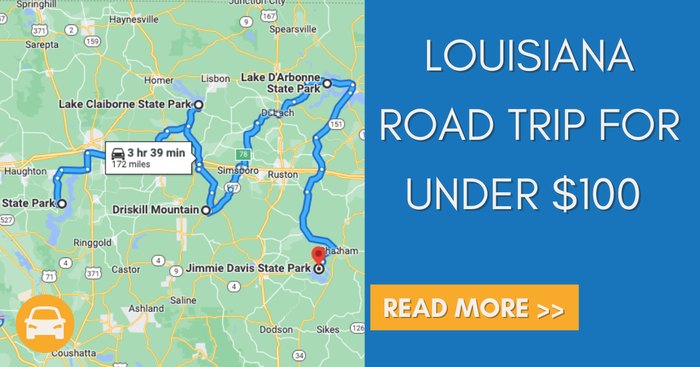 One of the best parts about this road trip is that all of these state parks offer both cabin rentals and campsites, so if you decide to turn the day trip into a weekend adventure, go right ahead! You can book your cabin/campsite at the Louisiana State Park website.
Address: Lake Bistineau State Park, 103 State Park Rd, Doyline, LA 71023, USA
Address: Lake Claiborne State Park, 225 State Park Rd, Homer, LA 71040, USA
Address: Driskill Mountain, Louisiana 71275, USA
Address: Lake D'Arbonne State Park, 3628 Evergreen Rd, Farmerville, LA 71241, USA
Address: Jimmie Davis State Park, 1209 State Park Rd, Chatham, LA 71226, USA