10 Picturesque Trails In Kentucky That Are Perfect For Winter Hiking
Winter in Kentucky is coming. The days are shorter. The air is brisk. Your morning begins with scraping frost off of your windshield. There's nothing we can do to stop the inevitable arrival of winter, but just because the temperature drops doesn't mean you should stay cooped up indoors until the first signs of spring. If you are looking for some things to do in KY these 10 winter hikes in Kentucky are perfect for a chilly winter day. They're all under two miles and have mostly easy terrain to help you keep your footing during snowy or icy days.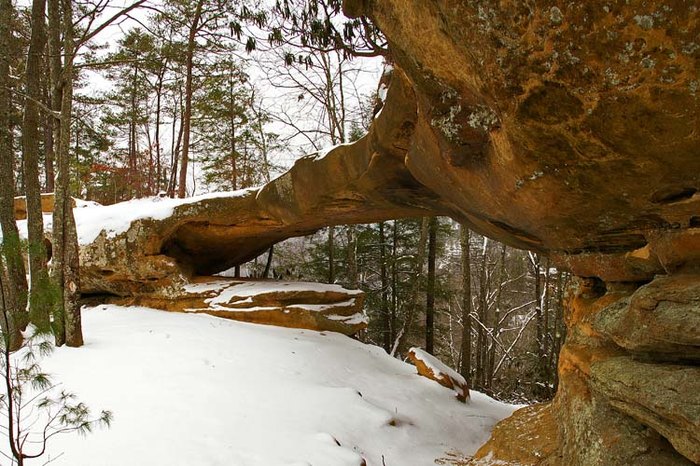 Some of the best hikes in the US are in Kentucky. Sure, we may be a bit biased because we love our home state, but these featured trails sure do stand out as some of the most beautiful around. Have you hiked any of these 10 trails before?
There are plenty more short trails that are great for a quick winter hike all throughout Kentucky, so add your favorite one in the comments.
After your winter hike, be sure to warm up with a cup of Joe at one of these unique coffee shops in Kentucky.
OnlyInYourState may earn compensation through affiliate links in this article. As an Amazon Associate, we earn from qualifying purchases.
More to Explore
Even more winter hikes and things to do in Kentucky
Can you hike Red River Gorge in winter?
Yes, Red River Gorge is open for hiking in the winter. In fact, winter is one of the prime times to enjoy a brisk hike in the Red River Gorge because there are fewer people on the trails. It's also such a quiet pristine landscape in the winter. The scenic views take on a whole new magical air when the snow falls.
Can you do the Appalachian Trail in winter?
The Appalachian Trail is open for hiking in the winter and many through-hikers get stuck in some very wintery conditions along the route. If you enjoy a short day hike or a week-long hike along the Appalachian Trail winter can be a nice time to do so. Of course, it takes a different level of gear preparation if you plan on a winter overnight camp and hike.
Where are some winter hiking trails in Kentucky?
1. Nolin Lake State Park. Mammoth Cave, KY.
2. Dog Slaughter Falls Trail. Corbin, KY.
3. Carr Creek Lake. Hazard, KY.
4. Woodland Walk, Land Between the Lakes. Golden Pond, KY
5. Angel Windows Trail, Red River Gorge. Pine Ridge, KY.
6. General Butler State Park. Carrollton, KY.
7. Natural Bridge State Park. Slade, KY.
8. High Point Loop, Bernheim Forest. Shepherdsville, KY.
9. Princess Arch Trail, Red River Gorge. Pine Ridge, KY.
All of these scenic trails and state parks offer amazing hiking year-round. But there is something special about the quiet and solitude of a winter hike in Kentucky. With rich dense forests, frozen waterfalls, interesting rock formations, and winter wildlife that only comes out when the snow falls a hike at this time of year is simply magical.
Related Articles
Explore Kentucky