A Clifftop Lodge In Kentucky, Cliffview Resort Is Great For A Winter Hideaway
As winter sets in and you begin to long for more sunlight and warmth, it's easy to get restless. Thankfully, Kentucky can cure cabin fever in a number of ways, whether you want to get outside and explore or stay cozy inside an inviting cabin. If this sounds ideal, then you'll want to check into the Cliffview Resort in Campton. This clifftop lodge in Kentucky is the perfect winter hideaway, and it's nestled in a gorgeous setting.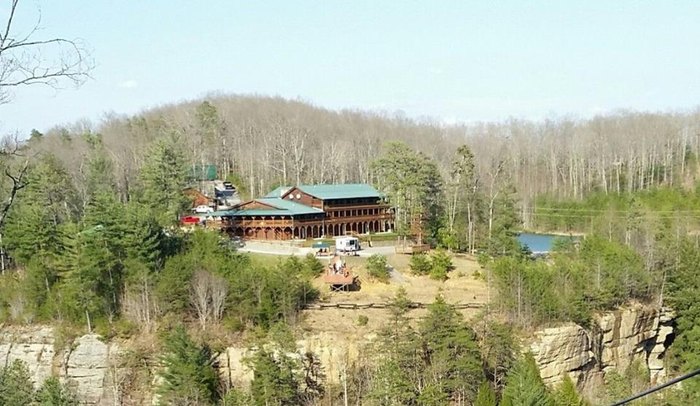 The Cliffview Resort is an incredible lodge that gives you access to plenty of outdoor fun in Kentucky any time of year and is a relaxing place to hide away, especially in the winter. Have you been to this clifftop lodge in Kentucky? Tag a few friends in the comments who would love to stay here with you!
For more information on the resort, including pricing and availability, visit its website here and also follow along on Facebook here.
And if you need more suggestions for things to do in the area, check out this Red River Gorge road trip that every Kentuckian should take.
Address: Cliffview Rd, Campton, KY 41301, USA
clifftop lodge in Kentucky
January 29, 2020
What are the best bed and breakfasts in Kentucky?
Bluegrass Country Estate is one of the best bed and breakfasts in Kentucky. In addition to the lovely horse stables, exciting game room, and beautiful pool, this LaGrange hotel has five elegant suites. There's no doubt about it — staying here is pure bliss! Bourbon Manor Bed and Breakfast Inn is another fantastic place to spend a night. Nestled in the heart of historic Bardstown, this plantation-style manor is full of Southern charm. To learn more about the most gorgeous bed and breakfasts in Kentucky, read our article here.
What are the best winter destinations in Kentucky?
If you're looking for some natural beauty this season, visit Carr Creek Lake. Most people think this is mostly a spring and summer destination, but it's equally gorgeous during winter. You haven't experienced its full beauty until you've seen it covered in a white blanket of snow. For more stunning sights, visit Big Bone Lick State Historic Site. It's one of the most wonderful winter destinations in Kentucky.
What are the most cozy places in Kentucky?
The Whistle Stop is a beloved cozy restaurant in Kentucky. It's been delighting visitors for over 30 years, and it's easy to see why. Their menu is full of scrumptious southern classics like biscuits and gravy, fried green tomatoes, and fried chicken. Plus, their down-home atmosphere is absolutely heartwarming. To learn more about this delicious Kentucky restaurant, read our feature article here. Sky Bridge Station is another welcoming restaurant in The Bluegrass State. Enjoy breathtaking views, delicious craft beer, and fantastic live music. Really, this cozy destination has it all!
Address: Cliffview Rd, Campton, KY 41301, USA