Waverly Hills Sanatorium In Kentucky Is So Disturbing A Movie Was Made About It
Waverly Hills Sanatorium is quite the historical landmark in Kentucky. Tales of terror, death, inhumane conditions, and suicide all stem from this property. The tales about 4400 Paralee Lane in Louisville began back in 1883, when a Major Thomas H. Hays purchased it. The original purpose was as a thriving farm and private school house for his daughters. The teacher named the newly built schoolhouse, Waverly School, after Sir Walter Scott's Waverley Novels. Major Hays liked it and bestowed the name Waverly Hills upon the property. Obviously, the name stuck.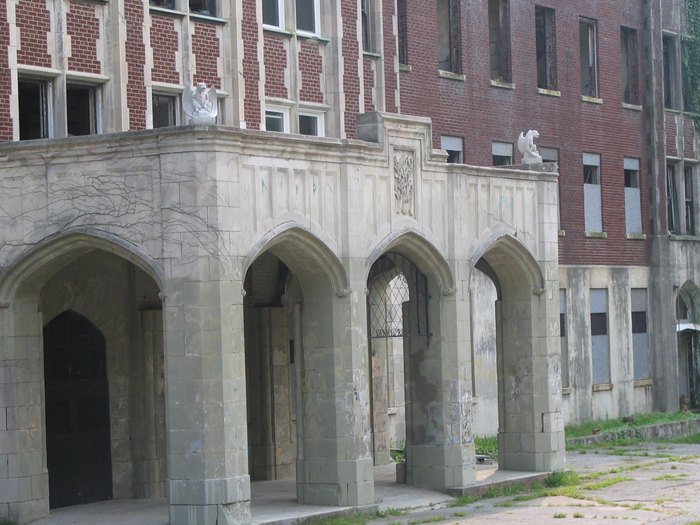 A Tuberculosis epidemic overtook Louisville back in the early 1900s, and the city needed somewhere to put the chronically ill patients to prevent the fast spread of the disease. Thus, they approached Hays and plans for Waverly Hills Sanatorium took hold. Initially, a small 2 story building and 2 open air pavilions were built to house the early cases… but it just wasn't enough. The city funded a larger facility in 1911, but by August 1912, the outbreak was so massive, the city began moving patients onto the Waverly grounds in tents.

Fortunately, by December of 1912 a new wing opened in the facility for 40 more patients. In 1914, a children's wing opened with beds for 50 TB-afflicted children, along with children of TB patients who had no other family to care for them. Unfortunately, there were many deaths due to the lack of space and medical knowledge during that time. Physicians had not yet discovered Tuberculosis was an air born disease, thus anyone in the close proximity of patients was becoming infected. Once that realization sunk in, Waverly became completely sustainable, having a post office, gardens, fruit trees, and a water source. If you became a patient at the Hill, you stayed at the Hill… but at least you got a room with a view and a bath.
1926 brought the opening of the large 5 story facility that still stands today. A 1500' tunnel connected to the basement beneath the building was also constructed at that time. The tunnel would provide a private route to remove deceased patients from the facility. This new gothic style sanatorium housed more than 400 patients and experimented with a variety of treatments. Sunlight was initially thought to heal, so patients were laid or sat in the sun for hours. If that didn't work, physicians moved on to surgical procedures, utilizing operating rooms with light fixtures like the one below.
The surgeries performed on the residents were horrific. Since putting patients to sleep was unheard of at this time, unfortunate victims underwent painful surgeries, such as Artificial Pneumothorax. This was the collapsing of a lung in hopes the holes caused by TB would heal. Another terrifying procedure was the Thoracoplasty, in which the patients were cut open in the front and the back. Doctors removed up to 8 ribs, but could only do 3 at a time, so it often took multiple procedures. Afterwards, a Lobectomy was performed in hopes of removing the damaged tissues. The patient was completely awake during each and every procedure, with only Morphine to numb the pain.  Some of the residents eventually went mad, which should come as no surprise. Thus, Waverly had a special wing for the insane, ironically near the children's area.

Traumatic surgeries and painful, questionable remedies continued for decades, with the stress even taking a toll on the medical staff. One nurse committed suicide, jumping from the tower, and several became ill. Finally, an antibiotic was discovered in 1944 that ended the TB reign. By 1961 Waverly Hills TB hospital had became a ghost town. It was closed, quarantined and renovated into Woodhaven Medical Services, which was a geriatric facility. Horrifying rumors and testimonies were given as to the torturous treatment of Woodhaven residents, including electrotherapy and electric shock therapy. Unfortunately, most patients had no family to complain too, so the torturous experiments continued until Woodhaven too closed its doors in 1981. Sadly, it was long after many accounts of unforgivable allegations regarding misconduct and mistreatment of patients.
Overall, it's estimated by Dr. J. Frank W. Stewart, a previous assistant Medical Director, that over 8000 people died on Waverly's property, including worker suicides. It's assumed most deaths occurred during WWII, when sick soldiers were being transported in. Life was fleeting in the time of the White Plague. It was recorded there were so many dead bodies that food storage rooms were used to keep them cold till they could be removed via the Death Tunnel.
Waverly has been featured on the Travel Channel's television program Ghost Hunters, as one of the most haunted hospitals in the United States. It has been on the ABC/FOX program Scariest Places on Earth, VH1's Celebrity Paranormal Project, SyFy's Ghost Hunters, Zone Reality's, Creepy, British Show's Most Haunted, along with the Travel Channel's Paranormal Challenge. The documentary, Spooked, The Ghosts of Waverly Hills Sanatorium, premiered on SyFy in July 2006. The movie The Death Tunnel, released by Sony Pictures in 2006, is about Waverly Hills, and dedicated to those lost within its walls. However, Death Tunnel does not do the facility, nor does it provide Waverly's ghosts true justice. This documentary or visiting the facility in person is far more interesting.
Waverly Hills was purchased again in 2001, by paranormal enthusiasts Tina and Charles Mattingly and has since become a popular haunted attraction during Halloween. Tours can be scheduled year round, and currently plans are in the works to make Waverly a hotel. Would you want to stay the night at Waverly Hills?
OnlyInYourState may earn compensation through affiliate links in this article.
Related Articles