Thousands Of Singing Spring Peepers Are A Welcome Sound Of A New Season Here In Kentucky
The world is in a constant state of flux, with things changing quickly and often without rhyme or reason. However, one thing that continues on, and even flourishes through these times, is nature. You may be asking, do Spring Peepers come out in Kentucky during the springtime months? Yes! One of the welcome sounds of normalcy throughout Kentucky in the springtime is the singing of Spring Peepers. These tiny little chorus frogs begin singing as winter transitions to spring and then we can continue to hear their song as summer approaches. Here's more about the delightful spring peepers in Kentucky: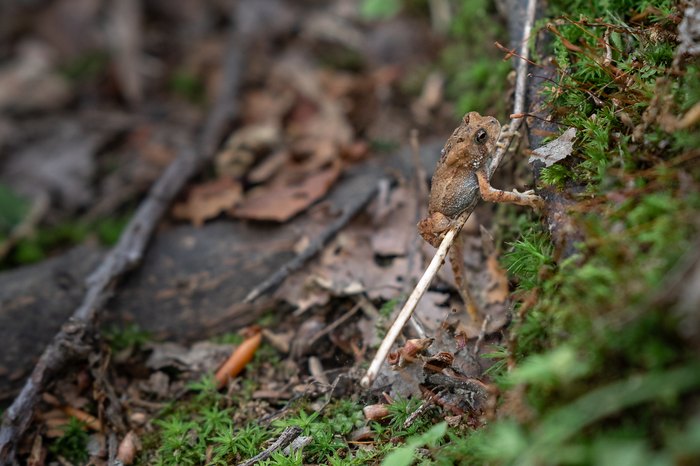 The sounds of Spring Peepers are just one of the ways we can enjoy spring in Kentucky. Even when the world seems to be spinning around us, nature is consistent in its beauty and we all seem to appreciate that more now than ever before. Have you heard the singing Spring Peepers at your house? Did you know about the arrival of the spring peepers in Kentucky each year? Let us know in the comments!
For more information on these tiny frogs and to see how many are typically found in your county, visit the Kentucky Department of Fish & Wildlife website.
Did you know there is another animal to watch for this time of year? And, it's truly one of the most delightful creatures in the world!
OnlyInYourState may earn compensation through affiliate links in this article.
More to Explore
do spring peepers come out in Kentucky
What are some other signs of spring in Kentucky?
Spring in Kentucky is a marvelous time of the year, with the beautiful Bluegrass State blooming after a long, gray, dreary winter. Our flower fields come alive with color, as do our various wildlife -- hummingbirds included. Hummingbirds in Kentucky are a sure sign of the changing seasons, and you'll want to keep your eyes peeled during the spring months as thousands of them return to our state.
Does Kentucky have any butterfly houses?
Spring and butterflies go hand in hand, and the Bluegrass State is lucky to be blessed with a few really amazing places dedicated to these fanciful creatures. Wilson Nurseries in Frankfurt actually boasts the largest butterfly house in Kentucky; you'll find fluttering butterflies there June through October. Idlewild Butterfly Farm in Louisville is another place to admire butterflies in The Bluegrass State, and it's a total hidden gem. The farm is located in a historic building on an urban street corner in Louisville. Run by certified entomologists, the charm and historic nature of this building actually make it a perfect spot for an enchanting butterfly farm.
What are some scenic spring hikes in Kentucky?
While we love hiking all year round in Kentucky, there's just something extra special about hitting the trails in the spring. Happily, there is an abundance of short-and-sweet hikes in Kentucky that really allow you to experience the budding trees, chirping birds, babbling waters, and blooming flowers that all signal the arrival of spring here in The Bluegrass State. Some of our favorite places to hike during the spring season in Kentucky include Bernheim Arboretum & Research Forest, Raven Run Nature Sanctuary, Red River Gorge, and Carter Caves State Resort Park!
Related Articles
Featured Addresses