Here Are the 10 Safest And Most Peaceful Places To Live In Kentucky
Kentucky has some beautiful land with flourishing cities, and knowing your community of choice is a good idea. You can move with confidence, appreciating the security of knowing your family is in a safe neighborhood. The FBI, unbeknownst to some, creates a list of reported crimes in each state organized by city. This data is often utilized by those in real estate, but it can also give us incredible insight into the type of community we might move into.
There are actually some cities in the Bluegrass that have very little or no crime at all. However, the list below is based on 10,000+ residents in the city/town versus the FBI's number of reported crimes committed in 2013, including robbery, rape, arson, murder, property crime, larceny, and auto theft. With those figures, here are the 10 safest places in Kentucky based on the population: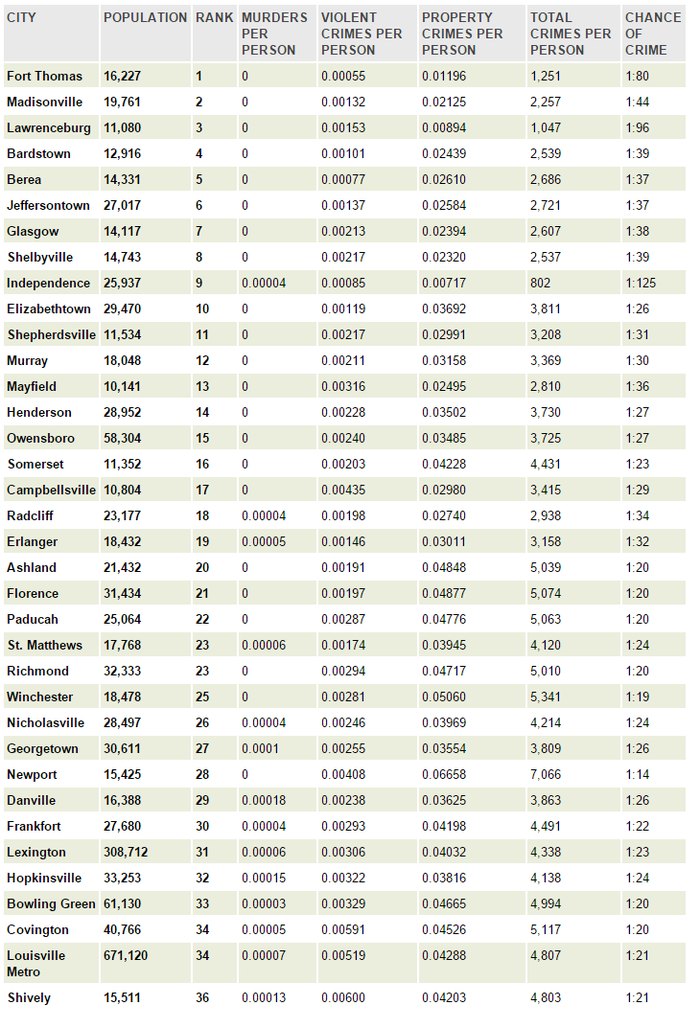 Home is where the heart is, and Kentucky, along with its people, has a lot of heart. If you are thinking of making a move to the Bluegrass State, evaluate the community. Visit some of the local diners, shops, and chat with the locals. You will find friendly people ready to chat about the beauty of the land, in most cases, and you'll easily be able to tell which are the best places to live in Kentucky. Please do not misinterpret, there are plenty of other safe places to live all across the state that are NOT listed. If you have a favorite town you'd consider one of the safest cities in Kentucky, feel free to add it in comments.
OnlyInYourState may earn compensation through affiliate links in this article.
Safest Places In Kentucky
June 01, 2019
Which cities and towns in Kentucky have the lowest crime rate?
Many of the best places to live in Kentucky are attractive to residents thanks to the low crime rate. A recent report from the National Council for Home Safety and Security has rated the state's towns based on various crime rates. In terms of violent crime, Kentucky is well below the national average at 2.11 crimes per 1,000 against the national average of 3.47. When looking at the safest towns in Kentucky, according to this report, Madisonville is the safest overall. Next up is Independence, then Fort Thomas, Lawrenceburg, and coming in 5th is Mount Washington. You can read the entire report here.
Is Louisville in Kentucky a safe place to live?
Louisville is the largest city in Kentucky and many who reside in small towns think of it as unsafe. While you will find more crime in this city due to its large population, there are neighborhoods that are some of the safest places to live in Kentucky. Some of these neighborhoods, according to crime rates, are Green Spring/Hills and Dales, Boston, Anchorage/Hickory Hill, and you can see the rest here.
What are some of the most dangerous places to live in Kentucky?
Just as there are places with low crime in Kentucky, there are also cities that are considered to be more dangerous. This can become a controversial topic, as residents of these towns and cities are proud of their hometowns and don't like to see them on a list like this. We listed dangerous places in Kentucky previously here, but just because a city is on this list, does not mean it's one of the worst places to live in Kentucky.
OnlyInYourState may earn compensation through affiliate links in this article.