Here Are 11 Of The Most Breathtaking Waterfalls In Kentucky, According To Our Readers
There's no question Kentucky is a waterfall wonderland, boasting some of the tallest, rarest, most wondrous falls on the planet. And it's not all quality over quantity, either; within the Kentucky Wildlands region alone, there are over 800 jaw-dropping waterfalls! And while we here at Only In Kentucky love to sing the praises of our state's glorious cascades, we wanted to see what our readers had to say on this very important topic, too. We polled fans on our Only In Kentucky Facebook page and our Kentucky Nature Lovers Facebook group, and the following 11 natural wonders showed up again and again as the best and most breathtaking waterfalls in Kentucky.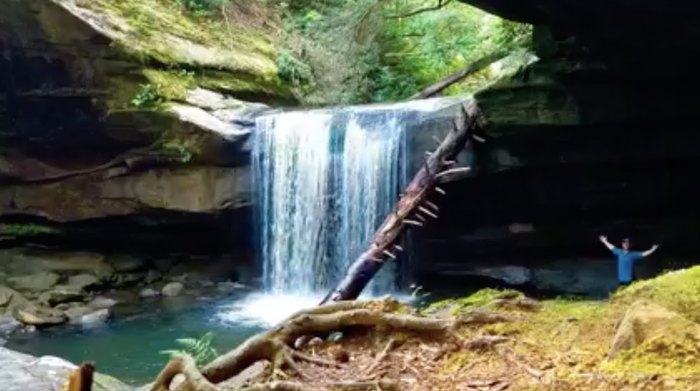 What do you think is the most breathtaking waterfall in Kentucky? Sound off in the comments below, and be sure to join the conversation on our Kentucky Nature Lovers page!
On the hunt for the tallest waterfalls in Kentucky? The Bluegrass State is home to some truly majestic marvels sure to satisfy the most acute waterfall chasing wanderlust.
Address: Dog Slaughter Falls, Kentucky 40769, USA
Address: Anglin Falls, Kentucky 40456, USA
Address: Cumberland Falls, Kentucky 42634, USA
Address: Floracliff Nature Sanctuary, 8000 Elk Lick Falls Rd, Lexington, KY 40515, USA
Address: Grayson Lake, Kentucky, USA
Address: Vanhook Falls Trailhead, 13307 W Laurel Rd, London, KY 40741, USA
Address: Jessamine Creek, Kentucky, USA
Address: 269 Alley Hughes Rd, Monticello, KY 42633, USA
Address: London, KY, USA
Address: Tioga Falls Trail, Louisville Nashville Turnpike, West Point, KY 40177, USA
Address: McCreary County, KY, USA
OnlyInYourState may earn compensation through affiliate links in this article.