Everyone From Kentucky Should Take These 10 Awesome Vacations
Kentucky is home to some of the most beautiful, bucket-list worthy adventures in the country. And if you're looking for a memorable getaway in The Bluegrass State, there's no shortage of fun trips sure to satisfy even the most acute case of wanderlust. Here are 10 awesome vacations in Kentucky that are perfect for your next adventure: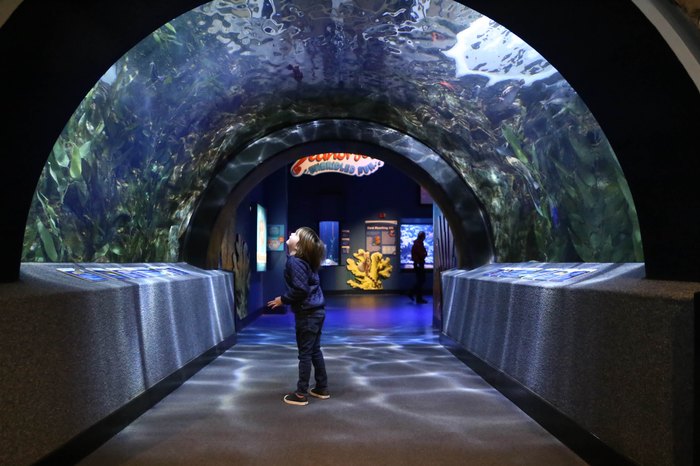 Kentucky really is a triple threat: we have tons of scenic beauty, endless fun adventures, and so many unique attractions! These 10 awesome vacations in Kentucky just barely scratch the surface of entertaining places to visit in The Bluegrass State, but are a great place to start.
Address: Newport Aquarium, 1 Levee Way, Newport, KY 41071, USA
Address: Horse Park Road, Horse Park Rd, Kentucky 41008, USA
Address: La Grange, KY, USA
Address: Bourbon Trail, Radcliff, KY, USA
Address: 1001 S 3rd St, Louisville, KY 40203, USA
Address: Cumberland Falls, Kentucky 42634, USA
Address: Laurel River Lake, Kentucky, USA
Address: Mammoth Cave, KY 42259, USA
Address: Appalachian Mountains, Appalachian Mountains
Address: Red River Gorge, Kentucky 40387, USA
Awesome Vacations in Kentucky
March 31, 2021
What are some must-visit places in Kentucky?
Kentucky has so many extraordinary places to visit; here are just a few of our favorites. Located within the state's Daniel Boone National Forest, Red River Gorge is the Holy Grail of outdoor recreation and adventure. The Gorge is perhaps best-known for its incredible hiking trails, offering drop-dead gorgeous views of waterfalls, canyons, caverns, and other splendid natural features. The park draws upwards of 750,000 visitors each year, from seasoned outdoor enthusiasts to neophyte nature lovers, and is an absolute must-visit in the state. The Kentucky Castle is another of our favorite places in The Bluegrass State; located in Versailles, The Kentucky Castle is a total bucket list destination. What began as a boutique hotel (which it still is), has grown into a wonderful restaurant, event space, and host of a variety of activities for all ages. Everyone should add this spectacular castle to their list to visit this year.
Does Kentucky have many beaches?
For many, the ultimate vacation is a day at the beach, and luckily, Kentucky is home to many absolutely spectacular beaches! Kentucky may be a landlocked state, but that doesn't mean we don't have our fair share of beautiful beaches. Kentucky's vast lakes and fabulous state parks play host to numerous sandy shores, hidden throughout the state. If you're craving a beach day in Kentucky, look no further than these hidden beaches located all around the Bluegrass State.
What are some fun road trips in Kentucky?
Here in Kentucky, the wanderlust is real. Luckily, there are endless opportunities for unforgettable road trips in Kentucky! These six epic road trips offer lots of beautiful scenery and adventure. One of our favorite road trips in The Bluegrass State is definitely the Lincoln Heritage Scenic Byway. Everyone knows who Lincoln was, but not all know about the scenic byway tour that takes you for a trip down Lincoln memory lane. The journey starts on US 31 E and US 150 in Hodgenville. There you can visit Lincoln's birthplace, childhood home, and the Lincoln Museum. Next stop is Bardstown, home of the Civil War Museum and three renowned distilleries. Keep going and you will run into Springfield and Lincoln Homestead State Park. This will be followed by the site of the biggest Civil War battle in Kentucky, Perryville, and lastly Danville. This is where Kentucky's actual statehood was determined. This is an epic trip sure to please history buffs and adventure-seekers alike.
Address: Newport Aquarium, 1 Levee Way, Newport, KY 41071, USA
Address: Horse Park Road, Horse Park Rd, Kentucky 41008, USA
Address: La Grange, KY, USA
Address: Bourbon Trail, Radcliff, KY, USA
Address: 1001 S 3rd St, Louisville, KY 40203, USA
Address: Cumberland Falls, Kentucky 42634, USA
Address: Laurel River Lake, Kentucky, USA
Address: Mammoth Cave, KY 42259, USA
Address: Appalachian Mountains, Appalachian Mountains
Address: Red River Gorge, Kentucky 40387, USA