Sleep Underneath The Forest Canopy At The Observatory Treehouse In Kentucky
Many fantasies can be fulfilled in the great state of Kentucky, including sleeping literally atop the trees, under the stars. Known as The Observatory Treehouse, this unique treehouse in Kentucky is not for the faint of heart and definitely not for those who have a fear of heights. But if you seek adventure, utter quiet and the best view of the Kentucky night sky, then The Observatory should be your home away from home. Start packing your bags now, because this incredible overnight destination beckons.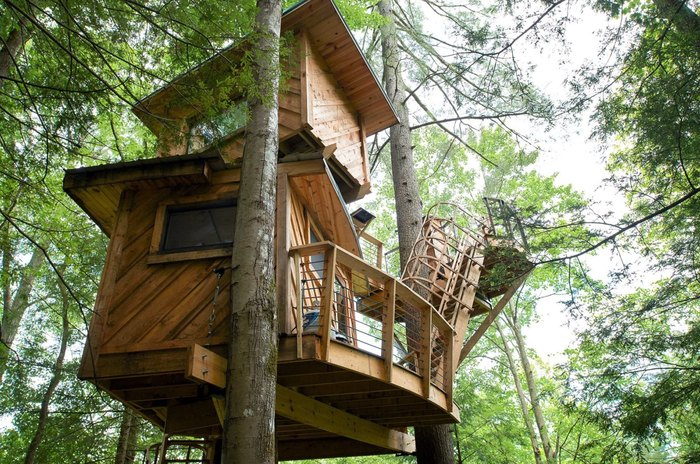 Would you spend a night in this epic treehouse in Kentucky? The Observatory is available for nightly rental through Red River Gorgeous, and it truly is a once-in-a-lifetime experience. For more info, pictures and to reserve your stay, visit their website here.
Can't get enough of the great outdoors in this pretty state? You're in luck, because it is full of magical camping spots.
Address: Stanton, KY 40380, USA
OnlyInYourState may earn compensation through affiliate links in this article.
Treehouse In Kentucky
May 17, 2020
Where can I go camping in Kentucky with no reservations?
The Bluegrass State is a magnificent place to go camping, as it is overflowing with natural features that will leave you absolutely entranced. There are actually several campgrounds in Kentucky where no reservations are needed, including the S Tree Campground, Mauzy Lake Campground, and the Wilson Creek Recreation Area. Wherever you go, just be sure to pack a bit of bug spray… you just might find out that you need it!
What are the best family-friendly campgrounds in Kentucky?
Camping with kids? You are in for a treat here in The Bluegrass State! When it comes to family-friendly campgrounds in Kentucky, you'll want to consider a lakefront camping experience. Setting up at a lakefront campground offers the family an opportunity to enjoy the shoreline, indulge in nearby trails, and bask in the beauty of a waterfront sunset. Just be sure the kids are versed in water safety before you plan your trip. This may actually be a great opportunity to introduce them to other camping safety precautions, like discussing fire safety and the buddy system.
Are there any treehouse restaurants in Kentucky?
Once you've experienced a casual evening in the canopy, you just might find yourself hooked. And it's no wonder – there truly is no experience quite like a treehouse. In addition to being one of the most unique stays in Kentucky, you can also dine in a Kentucky treehouse… well, sort of! Commonwealth Bistro is topped with a treehouse-inspired bar called Yonder. Bring your appetite, because you won't be able to resist the diversity of their menu.
Address: Stanton, KY 40380, USA
OnlyInYourState may earn compensation through affiliate links in this article.