5 Of The Clearest Lakes In Kentucky, Perfect For A Day Of Swimming
When the temperatures rise, it's time to go swimming at one of the many clearest lakes in Kentucky. And locals know that the best places to do so are often in the many lakes that fill our landscape. We have no shortage of water in the Bluegrass State and the clearest lakes in Kentucky are calling your name on a hot, sunny day. Of course, the clarity and quality of the water in any lake or body of water are very much dependent on the weather and time of year, but in the peak of summer, you'll often find the clearest water in Kentucky at these five spots.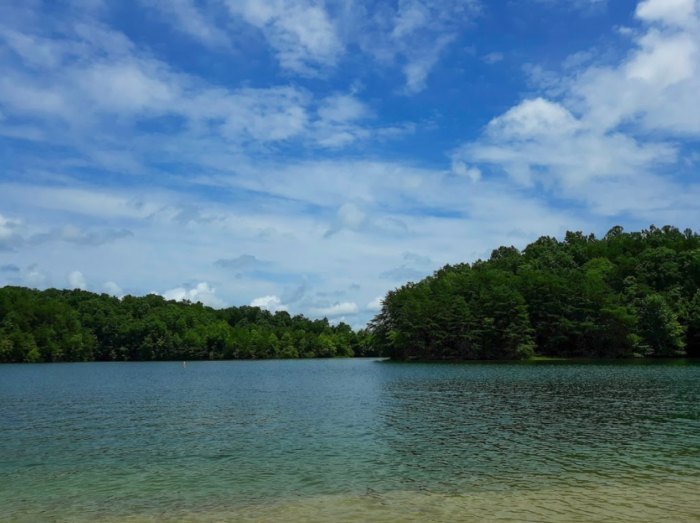 How do you spend your summer in Kentucky? If you love swimming and want to find the clearest lakes in Kentucky, try one of these five fabulous spots. Some are so clear you may just think you're in a different region altogether! Did your favorite swimming spot in Kentucky make the list? Let us know and feel free to share your favorite lake to cool off in Kentucky!
OnlyInYourState may earn compensation through affiliate links in this article.
More to Explore
Lakes in Kentucky
What are some other beautiful lakes in Kentucky to visit during the summer?
One of the most beautiful lakes in Kentucky to visit during the summer includes Barren River Lake is a beautiful oasis in the Bluegrass that's just about perfect in the summer! Here's what's so special about this lake:
Its main feature, the eponymous Barren River Lake, is a man-made lake created in 1960 by the U.S. Army Corps of Engineers.
It covers approximately 10,000 acres and has 141 miles of shoreline.
Barren River Lake State Resort Park is a lush oasis of verdant foliage, rolling blue hills, pristine waters, and an abundance of wildlife.
In terms of wildlife, Barren River State Resort Park offers year-round birding opportunities for nature enthusiasts. Flycatchers, thrushes, and warblers are common in the fall and spring, and bald eagles can be spotted from October through March.
The park is home to a full-service marina, which offers boat rentals for those looking to spend a day on the water!
There's also camping at this Kentucky State Park, too, which makes for the ultimate summer getaway in the Bluegrass.
What are some of the cleanest lakes and beaches for swimming in Kentucky?
Some of the cleanest lakes and beaches for swimming in Kentucky include the following:
Laurel River Lake has water so clear you can see all the way to the bottom, and sand so soft it rivals a Caribbean beach, Laurel River Lake's Spillway Beach is one of the best summertime spots in Kentucky. The beach at Laurel River Lake is maintained by the Corps of Engineers at the spillway of the Laurel River Dam and is an excellent place to spend a lazy summer afternoon in the Bluegrass State. White sandy shores and cerulean-blue waters define this beautiful little locale, a perennial favorite for Kentuckians!
Another breathtakingly beautiful beach in Kentucky is found at Jenny Wiley State Resort Park, one of the most underrated treasures in the state. This Kentucky State Park is 2,871 acres of pure Bluegrass beauty, offering an abundance of opportunities for outdoor recreation of both the land and water varieties. The park's crown jewel is the 1,100-acre Dewey Lake, a cerulean pool with some of the bluest water in the state. You'll be dazzled by its azure waters, which make Jenny Wiley State Park truly stand out — even in a state that's known for its abundance of rivers and lakes.
Related Articles
Explore Kentucky