This Daytrip Will Take You To The Best Wine And Waterfalls In Kansas
There's a lot to do in Kansas this summer and we're full of ideas. For those of us that love wine and the beautiful scenery of wineries, there's not much better than a day spent with a glass in hand, full of wine. Then, we got the idea to pair it with the beautiful and soothing sounds of a Kansas waterfall. This trip combines both wine and waterfalls in a daytime trip you'll take on your own time whenever you're looking for relaxation.
Before we get started, use this Google Maps link and follow along. Let's go!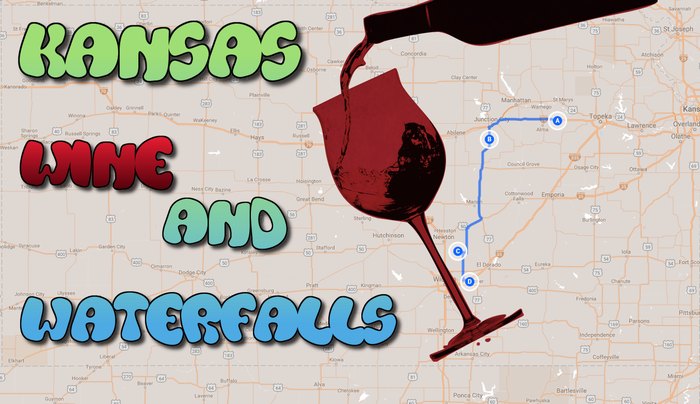 You're welcome to try this trip from either end, but make sure to have fun no matter which direction you pick. Wine and waterfalls go together any way you make them.
Afterwards, why not plan a trip to one of these amazing summer destinations that'll carry over your good mood to even better for days ahead. Where's your favorite waterfall or winery in Kansas? Feel free to share with us in the comments below!
OnlyInYourState may earn compensation through affiliate links in this article. As an Amazon Associate, we earn from qualifying purchases.
More to Explore
Waterfalls Near Me
What's the most beautiful hike in Kansas?
The most beautiful hike in Kansas is undoubtedly Castle Rock. This trek is just 2.3 miles long, but often the shortest hikes are the most lovely. On this journey, pass 70-foot-tall rock structures towering above the surrounding plains! These limestone pillars are a rare sight in the Badlands, and their beauty is what really sets this trip apart. This walk is located in Collyer, Kansas, and it is unlike anything else in the state. The nicest part is that this isn't a particularly popular route, so you'll probably get some peace and quiet if you go during the day!
What's the most beautiful waterfall in Kansas?
Geary Lake Waterfall is Kansas' most beautiful waterfall and also happens to be the tallest in the state! Geary Lake Waterfall is a spectacular waterfall located south of Junction City, Kansas, and is unlike any other waterfall around. From the bottom, Geary Lake Waterfall appears to be a set of colorful steps with water pouring over the steps. Trees tower over the waterfall, creating an immensely lovely backdrop that is perfect for professional and amateur photographers looking to try their hand at some waterfall photography!
What's the most popular kid-friendly hike in Kansas?
The Shawnee Mission Park Orange trail may be the most popular hiking trail in Kansas that is also kid-friendly. This trail is only 2.6 miles, and while it is steep in a few places, for the most part, it is a pleasant walk through Shawnee Mission Park. Many other people use the trail for hiking and mountain biking, but there is still a good chance that you will have the trail to yourself in the middle of the day to enjoy the incredible views of the water this trail will lead you to.
Related Articles
Explore Kansas