Few People Know This Small Town In Kansas Is The Halfway Point Of The Contiguous 48 States
There are a surprising number of ways you can divide up the United States into two. One method is to take the 48 contiguous states (this method excludes the distant Hawaii and Alaska) and find the halfway point of those. When measured by that technique, do you know where is the middle of the United States? Drum roll please… you guessed it, Kansas! The little town of Lebanon is so small it's barely a blip on a map, but it's got the honor of being the Halfway Point of the Contiguous 48 States.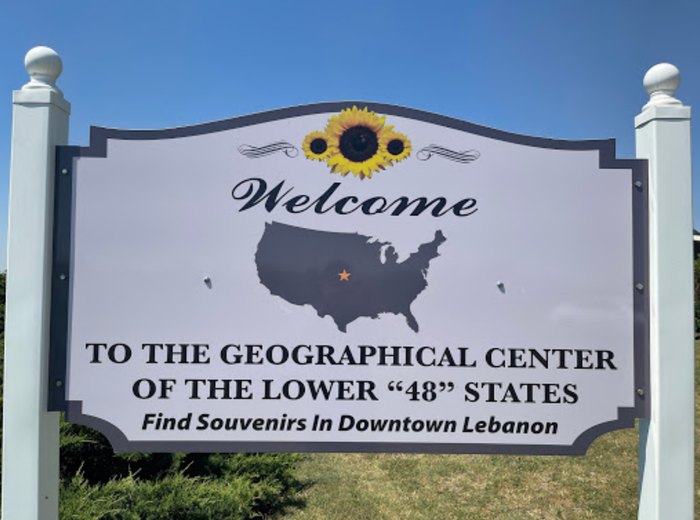 Have you ever been to Lebanon? If so, what were your favorite parts? Were you aware of its claim to fame as the center of the contiguous states? We'd love to read about your experience in the comments section below!
To take a look at another interesting small town in Kansas, read this article about Baxter Springs.
If you're still in the mood for more Sunflowerr State adventures, take a look at this video:
OnlyInYourState may earn compensation through affiliate links in this article.
Address: Lebanon, KS 66952, USA
Exploring Kansas
April 26, 2023
Where can we find other small towns in Kansas?
Paola is a quaint small town just a short drive from the Kansas City metro area with lots of restaurants, farming entities, and a little airstrip used by local pilots.
Hiawatha possesses a great deal of history, including a historic clock tower, museums, and the Davis Memorial.
Wellington is where you will find numerous outdoor recreational opportunities, and it is known as the "Wheat Capital of the World."
Read on to learn more about some of the many other charming small towns in Kansas.
Where can we find lakes in Kansas?
Tuttle Creek Lake in Manhattan offers camping, fishing, nature trails, and more.
El Dorado Lake features stellar fishing, and boating, and is situated inside of what has been called one of the best state parks in America.
Cedar Bluff Reservoir is the place to enjoy water sports, fishing, and sunbathing.
Read on to learn more about some of the many other wonderful lakes in Kansas.
Where can we find wineries in Kansas?
The Rowe Ridge Vineyard & Winery in Kansas City is a beautiful family-owned business with a tasting room and group gathering spaces.
The Stonehaus Farms Winery in Lees Summit is a great urban gem popular for tastings and special events throughout the year.
The Fence Stile Vineyards & Winery in Excelsior Springs is set on a beautiful expansive property with dramatic views of the surrounding countryside.
Read on to learn more about some of the many other lovely wineries in Kansas.