11 Unbelievable Kansas Waterfalls Hiding In Plain Sight… No Hiking Required
Do you remember the old TLC ditty, "Don't Go Chasing Waterfalls?" We here at Only in Kansas couldn't agree more with this sentiment, which is why we have compiled a list of 11 unbelievable Kansas waterfalls that require little to no hiking (or chasing). So, stop googling "waterfalls near me" and go check out the best waterfalls in Kansas.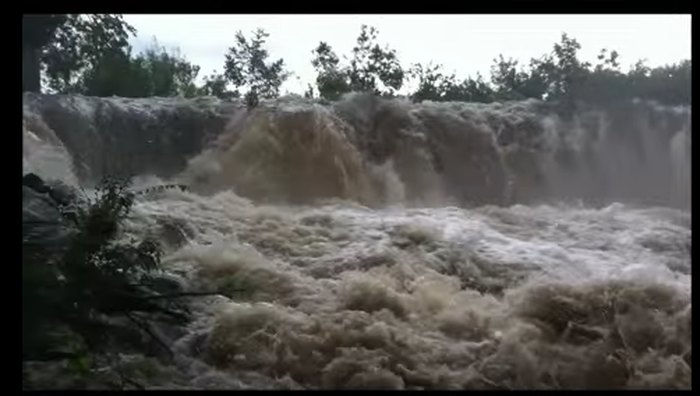 Do you want to explore even more Kansas waterfalls this summer? Then take our ultimate Kansas waterfalls road trip!
OnlyInYourState may earn compensation through affiliate links in this article.
Waterfalls Near Me
May 06, 2022
What are the most unique hikes in Kansas?
Horsethief Canyon Trail is located in Kanopolis State Park near Marquette, Kansas, and it is often regarded as the most unique hike in all of Kansas. The walk will lead you to a massive cave formed out of the stunning red rock that you will pass throughout your hike, and is what makes Horsethief Canyon Trail so unique!. To get to the cave, you'll have to go down a tiny path that has been worn into the path, but don't worry, the view from the cave is well worth the effort! The cave is ideal for a snack, picnic, or a relaxing break at the halfway point of the hike, and the view of the surrounding landscape below is really something else!   
What is the largest waterfall in Kansas?
Geary Lake Falls is the largest waterfall in Kansas, and it's quite incredible. At 35 feet, Geary Lake Falls may not seem huge compared to other waterfalls throughout the country, but its relative size is nothing to worry about—it is truly a remarkable sight to behold. You can get to Geary Lake Falls with just under a mile walk, and the view is simply incredible. Framed by towering green trees, you can stand at the bottom of the falls and see the dozens of colored rock bands exposed by this flowing water that really makes you think about how long the earth has been here.
What is the most popular hike in Kansas?
The most popular hike in Kansas may be the Wyandotte County Lake Loop Trail. While this is a long hike, clocking in at nearly 10 miles, there is not much elevation gain, making for a relatively easy adventure as you are taken around the entire Wyandotte County Lake. Also, the trail is well maintained making it a perfect place for horseback riding and mountain biking. This hike is near Kansas City, Kansas, making it perfect and convenient for a quick breath of fresh air when you need to get out of the city for a few hours.