These 8 Waterfalls In Kansas Are Overflowing With Spring Rains
We all love and hate the rain, right? It helps our crops and brings life to the ground, but we've had more than our share so far. At least with all the rain we've been getting, the waterfalls will surely be gorgeous once it finally stops. Once the mud dries a little, there will still be plenty of water making its way over these rocky areas and making that sound we love so much. Let's see where the best waterfalls near me are in Kansas!
Please do not visit these waterfalls until you're sure the ground is safe enough to travel on in that area. We don't want anyone getting hurt or stuck with all of the recent flooding.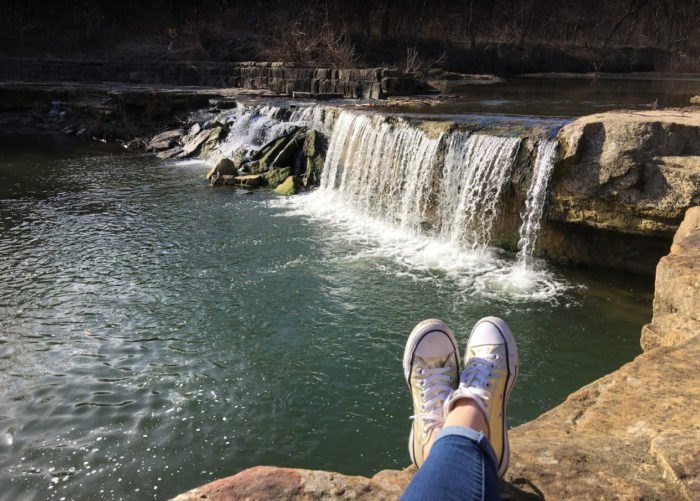 All of this rain means many parts of Kansas have been flooding, and the photos are astounding.
OnlyInYourState may earn compensation through affiliate links in this article. As an Amazon Associate, we earn from qualifying purchases.
More to Explore
Waterfalls Near Me
What's the most beautiful waterfall in Kansas?
Empire Dam Waterfalls
The Empire Dam Waterfalls may just be the most beautiful waterfall in all of Kansas. Found in Riverton, Kansas, the Empire Dam Falls is a giant manmade waterfall that flows over the dam which used to power the hydroelectric power plant. Even though the waterfall isn't natural, that doesn't mean that it can't be the most beautiful waterfall in the state! Go check it out and let us know what you think!
What is the most popular hike in Kansas?
Elk City State Park's Elk River Trail is one of Kansas' most popular hiking trails, and there is a good reason why. This trek, located on Squaw Creek Road in Independence, Kansas, is rather lengthy, but don't worry, you don't have to complete it all! This path will take you over the northern side of Elk Creek Lake to a location just south of Elk City, covering little over 15 miles if you do the full hike. This hike will take you through narrow rock canyons which are an adventure all by themselves, through the woods, and along the water's edge, giving you a taste of everything that the perfect Kansas hike has to offer!
What is the largest waterfall in Kansas?
Geary Lake Falls is Kansas's biggest and most spectacular waterfall. Geary Lake Falls may not appear large in comparison to other waterfalls around the country, but its size is unimportant—it is a genuinely magnificent sight to witness. Geary Lake Falls is a short walk from the parking lot, and the vista is breathtaking. Standing at the foot of the falls, surrounded by tall green trees, you can see the dozens of colored rock bands beneath the flowing water.
Related Articles
Explore Kansas