This Spooky Small Town In Iowa Could Be Right Out Of A Horror Movie
Many Iowa towns have suffered flood damage over the years. Most Iowans will remember the devastating floods of 2008 that decimated homes, buildings, and businesses. More recently, northeastern Iowa has been ravaged by the overflowing waters of the Turkey River. Many communities have spent a very long time in the process of rebuilding and recovering from flooding, and some have only just begun to assess and deal with the damages caused in years prior.
The small town of Elkport has a haunting history of flooding, demolition, and utter loss. The town was originally located at the intersection of the Turkey and Volga Rivers, and in 2004, these rivers flooded simultaneously, sending water over the levee on the south end of the town. Given the number of previous floods seen in the same region, the town voted to demolish its current buildings and relocate its citizens. In 2006, the entire town was leveled. This ghost town in Iowa is all but forgotten to the annals of time: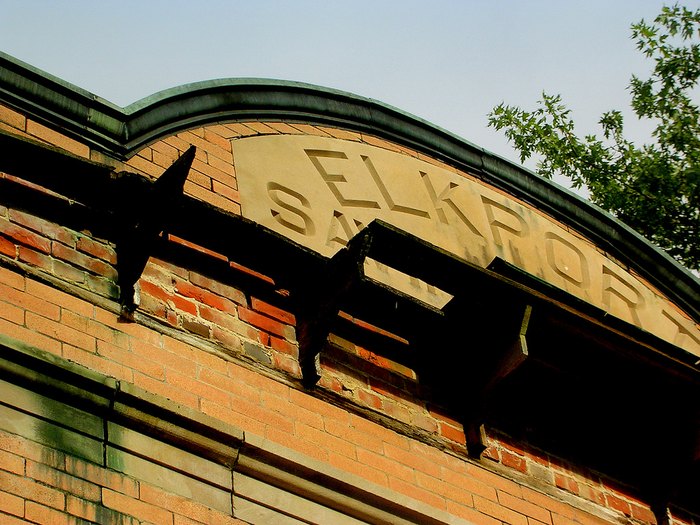 This slideshow of Elkport memorializes the history and structures of the now mostly demolished town.
If you're interested in other abandoned Iowa towns, This Haunting Road Trip Through Iowa Ghost Towns Is One You Won't Forget. What do you think? Do you have a favorite ghost town in Iowa? Tell us about it in the comments! 
Address: Elk Creek, Iowa 50450, USA
OnlyInYourState may earn compensation through affiliate links in this article.
Ghost Town in Iowa
October 08, 2021
Is there an abandoned town in Iowa?  
There are several abandoned towns in Iowa that one could now call ghost towns; each one is creepier than the last! For example, there's what remains of the town of Rockville, in Delaware County, which was founded in 1845 and eventually entirely abandoned. Today, only a few skeletal buildings remain. There's also Buckhorn, in Jackson County, Carrollton in Carroll County, Sunbury (which is west of Davenport), and Mount Edna, which is somewhere near Lake Icaria. There are many more, but it's more fun to visit these places than it is to read about them! If you're feeling brave enough, you might want to check out this super-awesome abandoned places in Iowa road trip. You never know just what you'll find out there. Iowa is a lot spookier than many people ever give it credit for… 
Where are some creepy places in Iowa? 
Iowa is one of those states that's a lot creepier than you'd think. The Midwest is, in general, a pretty haunted place (or so it would seem), with lots of legends and lore going around and scaring the youngsters year after year. Some of the most haunted places in Iowa that you'll see come up time and time again are places like the Villisca Axe Murder House, in Villisca, which was once the site of an incredibly grisly, unspeakable crime that left eight people – including six children – dead. In Farrar, there's the old schoolhouse, which is so incredibly haunted that tours seeking the ghosts of the place are offered at certain times of year. In Oakland, there's the haunted cemetery, which is home to an eight-foot-tall creepy-as-all-get-out angel statue that's said to be haunted by a woman named Teresa. If you're a fan of bridges and ghosts, you'll definitely have to make time to check out Tara Bridge, in Fort Dodge, which was once the alleged site of a murder-suicide of a woman and her two children. You never know what you'll find out there, so get ghost hunting!  
Address: Elk Creek, Iowa 50450, USA
OnlyInYourState may earn compensation through affiliate links in this article.