The Massive Indoor Playground In Iowa With Endless Places To Play
Do the kids need to blow off some steam? Are you looking for an "indoor playground near me" where you can cool off and relax while they get that energy out of their system? The Fun Station, with locations in Cedar Rapids and Eldridge, is no ordinary indoor playground – it's a play wonderland, filled with everything the whole family could need when getting out of the sun and having some fun. Step inside, let the kids go wild, and marvel at the most impressive indoor playground in Iowa.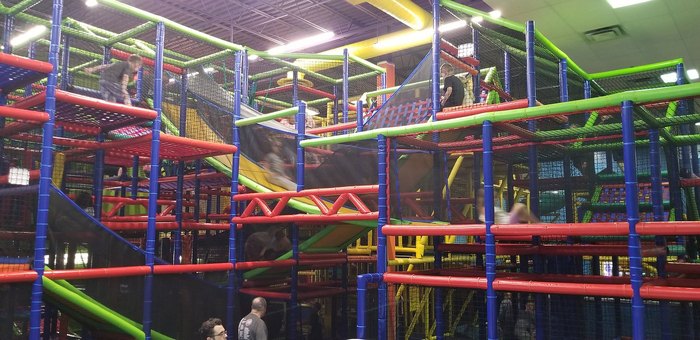 Have you paid a visit to The Fun Station's Cedar Rapids or Quad Cities locations? Let us know your favorite features of this massive indoor playground in the comments. The company is adding new and innovative ways to have fun all the time, so make sure to stop by their website and Facebook page before your next visit.
If you know of any other IA indoor playgrounds worth visiting, don't forget to nominate them for a chance to see them featured in an upcoming article! For a Cedar Rapids activity the grown-ups will enjoy, check out Iowa Coffee Lovers Will Want To Take The Cedar Rapids Java Trail For A Caffeinated Day Trip.
OnlyInYourState may earn compensation through affiliate links in this article.
Address: The Fun Station Quad Cities, 400 S 14th Ave, Eldridge, IA 52748, USA
Address: The Fun Station Cedar Rapids, 200 Collins Rd NE, Cedar Rapids, IA 52402, USA
Indoor Playgrounds In Iowa & Related Info
January 24, 2023
Besides The Fun Station, what are some other IA indoor playgrounds?
Some of the best IA indoor playgrounds besides The Fun Station are:
Part indoor playground, part relaxing lounge for parents, The Play Cafe allows grown-ups to take a breather while the kids run around and unleash some energy.
An immersive, Montessori-inspired play space, JouJou emphasizes child-centered learning, encourages intentional and imaginative play, and focus on key development stages.
Playground For Kids, Ankeny
This indoor playground offers 5 inflatables, a tree house playscape, slides, ball pit, and more.
The Shell is a by-appointment-only indoor playground with 12,000 square feet of play space.
Are there any other indoor activities for kids in Iowa?
Indoor activities for kids in Iowa include:
In association with the Smithsonian Institute, the National River Museum & Aquarium features an aquarium, museum, and science center that all features exhibits that explore life in and around America's riverways.
This resort is home to the Boji Splash Indoor Waterpark, where it's summer year-round.
Figge Art Museum, Davenport
As the main art museum between Chicago and Des Moines, "The Figge" offers a cultural and educational experience for all ages.
Climb Iowa, Grimes and East Village
This indoor rock climbing gym has locations in both Grimes and East Village. The Grimes location is more kid-friendly, with camps and classes for kids as young as 4 years old.