Posted in Iowa
February 03, 2023
This Natural Wonders Road Trip Will Show You Iowa Like You've Never Seen It Before
There's more to Iowa than meets the eye. We're much more than cornfields and flat lands. There's a surprising diversity and richness to the natural wonders in IA that we can explore. From other-worldly caves to waterfalls and everything in between, this road trip will show you Iowa as you've never seen it before. This Iowa road trip explores the natural wonders of eastern Iowa, and the driving time is a little over five hours in its entirety. You can find a map of the road trip route on Google Maps.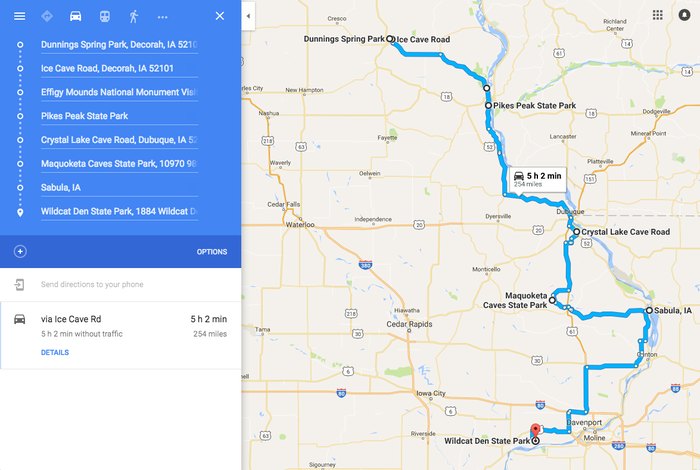 Have you been to any of these spots? What did you think of these amazing natural wonders in IA? For another great Iowa road trip idea, this haunting road trip through Iowa ghost towns is one you won't forget.
OnlyInYourState may earn compensation through affiliate links in this article.
Natural Wonders in Iowa
February 08, 2023
What are some of the most amazing natural wonders in Iowa? 
Who says Iowa isn't an amazing state to live in and/or visit? We sure don't. Believe it or not, Iowa is not even close to boring; there are numerous stunning natural wonders in IA that are worthy of mentioning, like:  
The Loess Hills – maybe this is what people are thinking about when they think Iowa is nothing but fields, but

these

fields are outrageously beautiful and worthy of admiration. 

 
The Maquoketa Caves – these feel like something out of another world and definitely not somewhere here in little ol' Iowa.

 

Pikes Peak State Park – this stunning state park in Indiana overlooks the Mississippi River near McGregor. If you ask the locals where the most beautiful part of Iowa is, plenty of them will mention this one. 

 
Learn more about each of these amazing natural wonders in Iowa and more.  
What are the natural wonders of IA? 
Amazingly, the list of natural wonders of IA doesn't end with the short one above. If it were a little longer, we'd have included some Iowa natural wonders like:  
Ledges State Park – this is the place to take anyone who assumes Iowa is flat and boring. The geography at Ledges feels like something out of Middle Earth. 

 

The Upper Iowa River is probably one of the most beautiful regions of the state, cutting through an area that the last glaciers never got to reach. 

 
Learn more about both of these amazing natural wonders of IA and then some!   
What are some of the most scenic places in IA? 
So, what are these other scenic places in Iowa we speak of? After all, there are hundreds – it would be almost impossible to explore the entire state in just a lifetime. Some of the other most notably scenic places in Iowa are places such as:  
Pella – this entire Iowa town is fairy-tale perfect, but most especially during the famous annual tulip festival. 

 

The covered bridges of Madison County are so stunning that they're like something out of a postcard.

 

The High Trestle Trail Bride might also be man-made, but it's outrageously beautiful and a favorite among Iowa photographers. 

 
Learn more about these beautiful places in Iowa and many others.