The Most Affordable Iowa Road Trip Takes You To Eight Stunning Sites For Under $100
It's always the perfect time for travel and adventure, but it can be hard to find the perfect itinerary – especially when you're packing a large crew into the car for the road trip. This affordable road trip in Iowa combines free and low-cost activities along with reasonably-priced meals and treats for a full day of fun in the Hawkeye State. You'll see natural beauty, fascinating museums, and some of Iowa's most underrated activities on a full day of travel from central Iowa to its eastern border. So pack up the supplies and bring your explorer's energy, because an affordable adventure awaits on this road trip itinerary!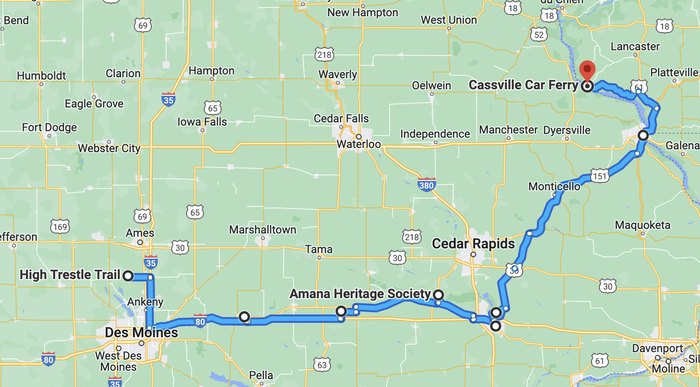 Are you excited about this affordable road trip in Iowa? What are your favorite low-or-no-cost activities in the Hawkeye State? Let us know in the comments section. If you're interested in another low-cost road trip, consider exploring these countryside hidden gems.
Address: High Trestle Trail, Iowa, USA
Address: Newton Arboretum & Botanical, 3000 N 4th Ave E, Newton, IA 50208, USA
Address: The Classic Deli & Ice Cream Shoppe, 120 Jackson St, Brooklyn, IA 52211, USA
Address: Amana Heritage Society, 705 44th Ave, Amana, IA 52203, USA
Address: University of Iowa Museum of Natural History, Macbride Hall, 17 N Clinton St, Iowa City, IA 52240, USA
Address: Devonian Fossil Gorge, 2850 Prairie Du Chien Rd NE, Iowa City, IA 52240, USA
Address: Sunshine Family Restaurant, 401 Central Ave, Dubuque, IA 52001, USA
Address: Cassville Car Ferry, Oak Rd, Guttenberg, IA 52052, USA
Address: High Trestle Trail, Iowa, USA
Address: University of Iowa Museum of Natural History, Macbride Hall, 17 N Clinton St, Iowa City, IA 52240, USA
Address: Devonian Fossil Gorge, 2850 Prairie Du Chien Rd NE, Iowa City, IA 52240, USA
Address: Newton Arboretum & Botanical, 3000 N 4th Ave E, Newton, IA 50208, USA
Address: Sunshine Family Restaurant, 401 Central Ave, Dubuque, IA 52001, USA
Address: The Classic Deli & Ice Cream Shoppe, 120 Jackson St, Brooklyn, IA 52211, USA
Address: Sunshine Family Restaurant, 401 Central Ave, Dubuque, IA 52001, USA
Address: Cassville Car Ferry, Oak Rd, Guttenberg, IA 52052, USA
Address: Amana Heritage Society, 705 44th Ave, Amana, IA 52203, USA