8 Trails In Iowa You Must Take If You Love The Outdoors
It's no secret that Iowa has some pretty sweet hiking trails. From deep forests to lofty hills to subterranean depths, our state's trails offer a bit of everything for everyone.  Spend an entire day hiking, biking, running, or just enjoying your time on these eight amazing trails in Iowa you must take as soon as you get a chance.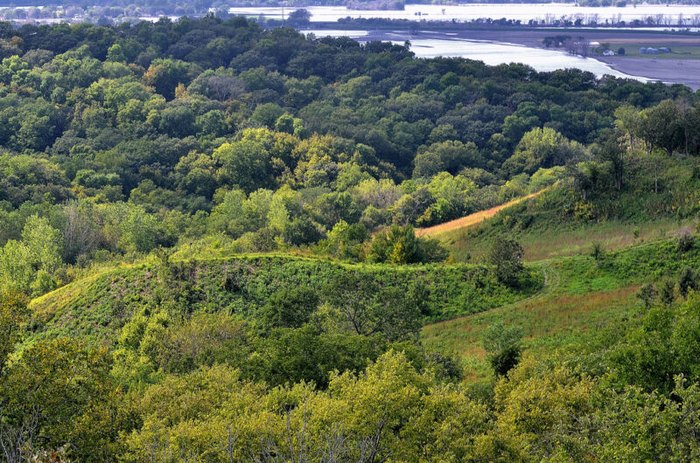 What are some of your favorite trails in Iowa? Share them with us!
Address: 27792 Ski Hill Loop, Honey Creek, IA 51542, USA
Address: 1884 Wildcat Den Rd, Muscatine, IA 52761, USA
Address: Wabash Trace Nature Trail, Mineola, IA, USA
Address: 22895 Lacey Trail, Keosauqua, IA 52565, USA
Address: 1347 129th St, Dundee, IA 52038, USA
Address: 9688 Caves Rd, Maquoketa, IA 52060, USA
Address: 9981 Pacific St, Prairie City, IA 50228, USA
Address: High Trestle Trail, Iowa, USA
Trails in Iowa You Must Take
April 19, 2021
Can you go hiking in Iowa?
Of course! There's so much more to the beautiful state of Iowa than just open fields and old towns. In fact, we've got at least 500 hiking, walking, and biking trails in Iowa, and you should definitely make it a point to visit some of the most popular. For example, the Hitchcock Nature Center Loop Trail is the most popular one in the state, and it's easy to see why – it takes hikers through breathtaking scenery and incredible views that any Iowan will simply adore. There are also trails that lead to caves, trails that lead to lakes and rivers, and so much more. Check out this article for our some of our favorite scenic Iowa hikes.
What are the best trails in Iowa for beginners? 
Beginners rejoice! There are plenty of easygoing hikes and walks peppered throughout our lovely state. Some of the best trails for beginner hikers include such breathtaking spots as Cedar Cliff Trail, The Chute And Heritage Trail Loop, and Preparation Canyon State Park Loop. There are literally hundreds of easy trails you can pick from, so don't stop at just those three. There's way too much to see to leave it at just three! 
Where are the best outdoor attractions in Iowa?
Iowa is a great state for those who love the outdoors. Other than your basic hunting, fishing, and camping, there are plenty of other outdoor attractions suitable for other tastes, as well. Play a few rounds of frisbee golf, or check out a local skate park. Golfing is a beloved outdoor activity in Iowa, and so are biking and kayaking. Our mild weather tends to make us one of the best states there is for enjoying ourselves in nature. 
Address: 27792 Ski Hill Loop, Honey Creek, IA 51542, USA
Address: 1884 Wildcat Den Rd, Muscatine, IA 52761, USA
Address: Wabash Trace Nature Trail, Mineola, IA, USA
Address: 22895 Lacey Trail, Keosauqua, IA 52565, USA
Address: 1347 129th St, Dundee, IA 52038, USA
Address: 9688 Caves Rd, Maquoketa, IA 52060, USA
Address: 9981 Pacific St, Prairie City, IA 50228, USA
Address: High Trestle Trail, Iowa, USA