The Untold Story Of The Indiana City That Vanished Overnight
It's certainly no secret that Indiana is a beautiful state full of rich history; in July 1800, it officially became a territory of the United States, and ever since it's had more than its fair share of towns that came and went. Hindostan Falls, Indiana, was one such town. This ghost town in Indiana seems spooky and quiet now, but once upon a time, it was a bustling hotspot… until disaster struck, anyway.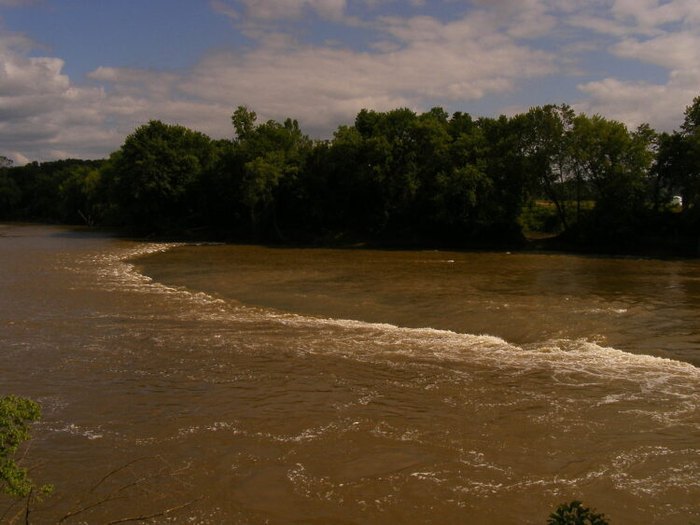 Today, the site of what used to be this bustling little town is now an Indiana State Fishing & Recreation area. There are no traces of the place that once existed here, though a memorial marker exists nearby to commemorate the rise (and fall) of a legendary Indiana town.
Have you ever heard of Hindostan Falls? Do you have a favorite ghost town in Indiana? Tell us your stories in the comments! If you have a specific place you'd like to see us feature, tell us about it using this form. We love to hear from you!
Address: Hindostan Falls, IN 47581, USA
OnlyInYourState may earn compensation through affiliate links in this article.
Ghost Town In Indiana
October 05, 2021
Where are some interesting, abandoned places in Indiana?  
Indiana has plenty of strange and interesting haunted places; you've just got to know where to look! This state is perfect for those who enjoy urban exploration and who see beauty in decay. Some truly awesome abandoned places in Indiana include, well, most of the city of Gary; the City Methodist Church, Post Office, Mahencha Apartments, and old Union Station are just a small handful of the interesting, crumbling buildings there. Check out this article for more photos! Outside of Gary, there are plenty of others, like the old, abandoned dome cabin in Bloomington and Rose Island, in Charleston, which is the dilapidated remains of an old amusement park that you can still access today. Of course, caution must be exercised in every sense. We don't condone entering abandoned buildings or trespassing; admire these places from the outside and take lots of photos!  
Where are the creepiest places in Indiana? 
Indiana is home to plenty of places that'll give you the heebie-jeebies. Some of the creepiest places in the Hoosier State include nightmarish locations like Whispers Estate, where the ghosts are supposedly so aggressive that tour guests often leave with scratches and other strange marks inflicted upon them by unseen hands. There's the infamous Stepp Cemetery, in Martinsville, which goes way back to the 1800s and is said to be teeming with paranormal activity. Speaking of cemeteries, Highland Lawn Cemetery in Terre Haute is also said to be quite haunted – one of the known spirits in the area is that of a bulldog, so keep your eyes and ears peeled; you never know what kind of creepy shenanigans you'll come upon. Indiana is a wonderful state for those who are curious about – or already have a deep understanding of – the paranormal and unusual. Come see why Indiana might just be one of the most haunted states in the entire Midwest, if not the country!  
Address: Hindostan Falls, IN 47581, USA
OnlyInYourState may earn compensation through affiliate links in this article.