One Of The Most Incredible Small Businesses In Indiana, Stream Cliff Farm Is A Proud Family-Run Farm And Winery
The Hoosier State is a beautiful place, full of pristine, pastoral countryside and endless, rolling hills and sky. The farms of Indiana are the most postcard-perfect in the country, making our state such a charming and idyllic place. In Jennings County, Indiana, Stream Cliff Farm is a historic farm that's not only incredibly beautiful but also rich in history. It's a place with deep roots that go all the way back to 1821 when families were moving West to start new lives. The property's original owners were Quakers who bought the land from a local Methodist church. When Jimmy Harmon died in 1863, he left his possessions to the church. The property was later purchased by the Manning Family — and they own it to this day.
If you're doing the math, that's over 150 years and seven generations of a family who have lived on the historic farm, which has been in business for over 40 years. It's a humble place with owners dedicated to preserving the land and wholly celebrating the Hoosier State: its bounty, beauty, and history.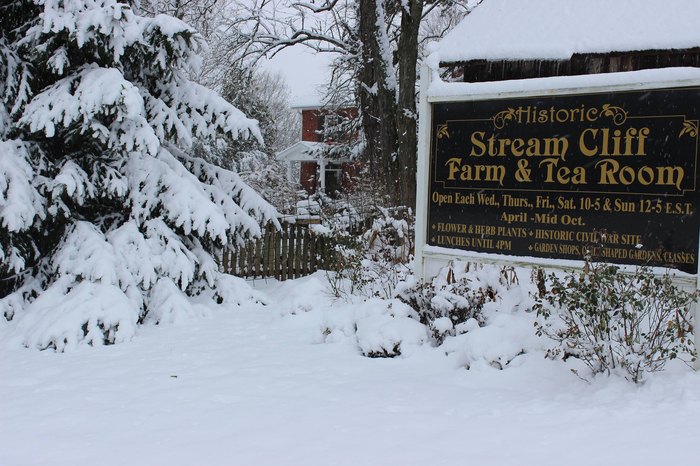 Learn more and support this family-run farm and winery by visiting the Stream Cliff Farm website, and be sure to follow this Indiana business on Facebook and Instagram, too! To speak with someone at the farm, call (812) 346-5859.
Of course, Stream Cliff Farm is one of many amazing businesses in Indiana that's doing great things in the state. If you have another local business you'd like to see profiled on Only In Indiana, please nominate them for a chance to be featured. And be sure to follow Only In Indiana on Facebook and Instagram to stay to in the know about the Hoosier State's events, restaurants, local businesses, and hidden gems!
OnlyInYourState may earn compensation through affiliate links in this article.
Address: Stream Cliff Farm, Restaurant & Winery, 8225 S County Rd 90 W, Commiskey, IN 47227, USA