10 Easy And Beautiful Spring Hikes Everyone In Indiana Will Love
It's flying by fast, but that transitional season we call spring is finally here and there's much to be done in this great state before it ends! These are the best spring hikes in Indiana that definitely belong on your bucket list The trails in this list have easy portions that anyone can enjoy, immaculate views, and relaxing atmospheres you'll never want to be without. Scroll on for more information! See why we think these are among the best hikes in Indiana: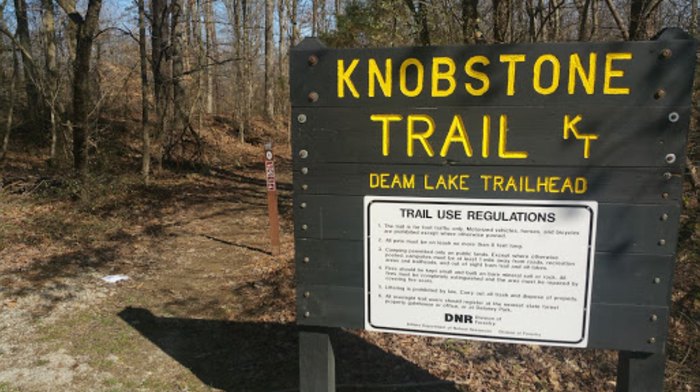 As a bonus, check out this unbelievably amazing secret garden hike in Indiana that is like a real life fairytale.
Which of these spring hikes are you most looking forward to trying? Share your thoughts with us in the comments!
OnlyInYourState may earn compensation through affiliate links in this article. As an Amazon Associate, we earn from qualifying purchases.
More to Explore
Best Hikes in Indiana
What are some of the most awe-inspiring scenic hikes in Indiana?  
Perhaps an easier question to answer would be something like "which hikes in Indiana AREN'T awe-inspiring hikes in Indiana?"; the truth is that the vast majority of our amazing trails system is picturesque and wonder filled. You could make an entire lifetime out of exploring the highs and lows of Indiana parks and recreation areas. Some of the most awe-inspiring scenic hikes in Indiana you can start with are ones like the awesome Canyons Loop Trail, at Turkey Run State Park. It's 7.1 miles long, but it's so amazingly lovely that you'll easily lose track of time. Then, be sure to head up to Indiana Dunes National Lakeshore and hit the the Dune Succession Trail. It's just one mile, but we promise every step of it is worth the drive to get there. Then, be sure to add Two Lakes Loop Trail within Hoosier National Forest to your to-do list. That one's long – 16 miles long, to be exact – and it can be taken in segments or in one go. No matter what, though, you'll be surrounded by stunning woodlands and all the reasons Indiana is so wonderful. Finally, don't forget the Glacier Flats Trail at Spicer Lake Nature Preserve; that one's shorter, at just two miles long, but we promise it's worth a go!  
What are the best easy hikes in Indiana to add to my bucket list?  
Of the hundreds (if not thousands) of miles of hiking trails in Indiana, plenty of those miles are made up of nice, easy hikes. Some of our favorite easy hiking trails in Indiana include the amazing Indiana Dunes State Park Loop, which is within Indiana Dunes National Park. It's 1.6 miles long and features a truly awe-inspiring trek through several stages of sand dune development. Then, there's the Lincoln Park Loop Trail for the history buffs. That one is within Lincoln State Park; it's 7.3 miles long and can be done all at once or in segments, but no matter how you choose to hike it, you're sure to fall in love with your surroundings. Then, be sure to check out the Crooked Lake Nature Trail, near Columbia City. Finally, conquer the epic Chain O'Lakes Trail, at Chain O'Lakes State Park. It's just a mile and a half long, but it's 100% awe-inspiring. Want more? Check this article out for some of the best easy hikes in Indiana. 
Related Articles
Explore Indiana