This 20-Mile Train Ride Is The Most Relaxing Way To Enjoy Indiana Scenery
There's no better vintage experience than a scenic train ride through the Hoosier State! In fact, there's a rail company in central Indiana that hosts historic train rides throughout the spring, summer, and fall. It is the perfect way to enjoy the state's natural beauty. This rare experience is not something you'll want to pass up if you love old-fashioned attractions. Scroll on for more details about this old railroad.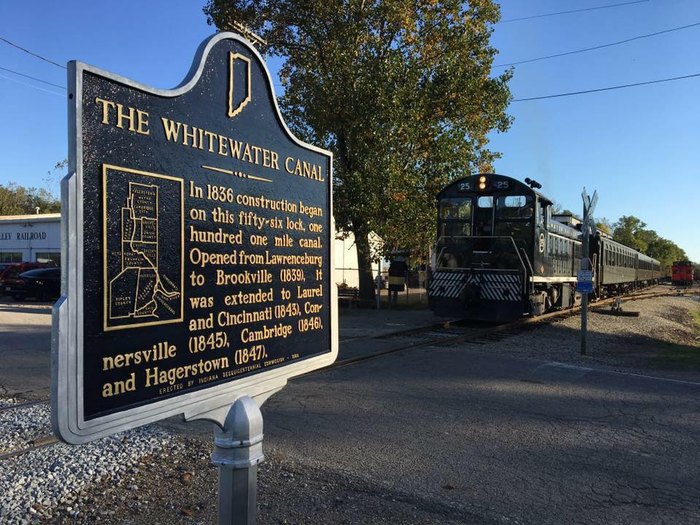 Whitewater Valley Railroad is located at 455 Market Street, Connersville, Indiana, 47331. You can make reservations on its website and get more information and photos on its Facebook page. If you've ever been on this scenic train ride, we'd love to hear from you. Please share your experiences and photos with us in the comments.
For more like this, check out 10 more beautiful trains in Indiana that you'll want to board.
OnlyInYourState may earn compensation through affiliate links in this article.
Address: 455 Market St, Connersville, IN 47331, USA
Scenic Train Ride in Indiana
August 13, 2021
Can I go on any train rides in Indiana?  
Totally! Though, of course, it does depend on what exactly you're looking for. Indiana is home to your typical train services – Amtrak, for example, is still going strong throughout the USA, including within the Hoosier State. If you prefer short and sweet train rides, you could always pay a visit to the Hesston Steam Museum and take one of theirs! No matter what kind of ride you're looking for, you'll find it – you just need to know where to look (and when; you'll love some of the holiday-themed rides).  
What are some Indiana railroads still operating today?  
Trains aren't necessarily a relic of the past; today, there are still lines running throughout Indiana and the Midwest (as well as the rest of the country). Currently, passenger rail services are offered by Amtrak, as well as the Northern Indiana Commuter Transportation District (also known as the NICTD). Those aren't all, though: if you're not looking for your typical "A to B" rails, then you're in luck! Indiana has a handful of scenic railroads as well, like the famous French Lick Scenic Railway, which will blow your mind if you're looking for a ride through beautiful landscapes that are uniquely Indiana. The Whitewater Valley Railroad is another excellent one. For more of our picks for the best Indiana railroads operating right now, take a look at this article!  
Where are the most scenic places in Indiana?  
Indiana is a beautiful state full of scenic delights. Any one of its amazing state parks is well worth a visit; after all, those have been designated as parks for a reason! Indiana Dunes National Park (AND State Park) is easily one of the most scenic places in the state. The shoreline is breathtaking and feels like the ocean, despite the fact that Indiana is landlocked. McCormick's Creek State Park is another awe-inspiring one. You could also visit the waterfalls at Clifty Falls State Park – but no matter which one you choose (if not all of them), bring a camera. You'd be amazed at just how photogenic the Hoosier State really is.