Take This Road To Nowhere In Indiana To Get Away From It All
Whether you live in the city or simply need a break away from your normal routine, sometimes the best medicine is a great country drive on a road to nowhere. Luckily, the Hoosier State is chock-full of great country roads, both big and small. One of the most scenic, IN-135, is a gorgeous "road to nowhere" that cuts through some of the state's prettiest attractions. If you're looking for the best scenic drives in Indiana, you've found one.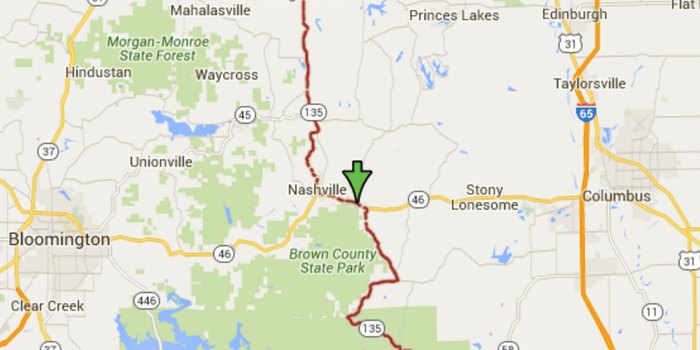 There's no doubt about it: the Hoosier State is beautiful in and out. The landscape is diverse – from dunes to prairies to plains to forests and everything in between. One thing definitely it isn't? Boring. You'd be amazed at just how many awesome day trips (and road trips) you can come up with.
So, what do you think? Which epic scenic drives in Indiana are your favorites? Send us your ideas and you might see them featured someday! Craving more amazing drives? Check out these routes!
OnlyInYourState may earn compensation through affiliate links in this article. As an Amazon Associate, we earn from qualifying purchases.
More to Explore
Best Scenic Drives in Indiana
What are some great scenic drives in Indiana? 
Well, that depends on what you're looking for! If you're craving a drive through beautiful forests and woodlands, you'll want to take Indiana's Historic Pathways (South Spur). If you're hoping to see gorgeous farmland and delightful rural beauty, Salt Creek Lick Road is a grand adventure. For a nice, long scenic drive, take the old historic Lincoln Highway, which spans 133 miles across several state. The Indiana route begins in Dyer, Indiana, and ends in Townley, Indiana.  
Where are the most beautiful drives in Indiana? 
Indiana is a nice, scenic state almost no matter where you go; you'll find beautiful things no matter where you decide to go. However, one of our favorite beautiful drives in Indiana is the Whitewater Canal Scenic Byway, which winds 67 miles from Lawrenceburg to Hagerstown. This one is particularly impressive during the peak of fall color, when the roads are lined with brilliant hues of yellows, oranges, and deep reds. We also love Indiana's Historic Pathways (North Spur) - heck, take the north spur and then do the south! We're also fans of the road leading up to the Merry Lea Environmental Center. For more ideas, take a look at this list of absolutely beautiful drives in Indiana.  
How long is State Road 135 in Indiana? 
State Road 135 in Indiana is a roadway that connects Indianapolis to the Ohio River. It extends for a little over 138 miles, and most of it is a two-lane highway (except for parts of it in Indy). It goes way back; it was commissioned back in 1935. Over the decades, it has been improved upon and expanded, and today, it's one of our favorite scenic drives in Indiana. Indiana itself is a lovely state, but routes like this one definitely highlight some of the "best of" aspects of the Hoosier State.  
Related Articles
Featured Addresses

State Road 135, IN-135, Greenwood, IN, USA