Take This Road Trip Through Indiana's Most Picturesque Small Towns For An Unforgettable Experience
There are a plethora of charming small towns in Indiana to explore, some of which are famous for their quaintness or lovely settings – which can make for some of the most scenic road trips in Indiana. This particular road trip itinerary will take you through some of the most picturesque small towns in the state. So buckle up and get ready to be wowed by these eight towns representing a small portion of the Hoosier State's beauty! When it comes to great scenic road trips in Indiana, this one might just be at the top!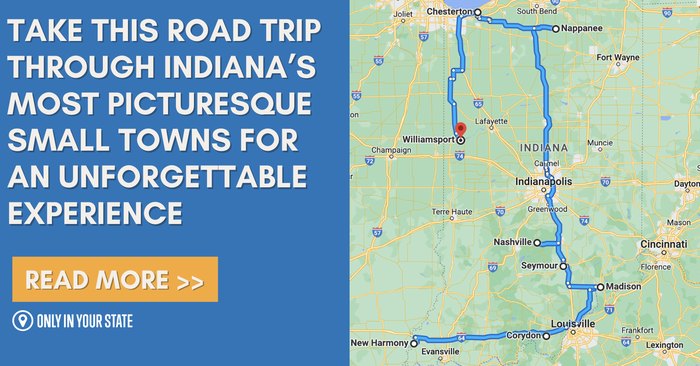 Williamsport is another tiny town with some beautiful sights to admire. From historic areas and buildings to their gorgeous Williamsport Falls, this small town should definitely make your bucket list of charming towns in Indiana every time!
We hope you love scenic road trips in Indiana as much as we do (We actually think this itinerary is probably one of the best road trips in Indiana)! Be sure to take some time to explore as many of the awesome small towns in Indiana that you can.
OnlyInYourState may earn compensation through affiliate links in this article.
Scenic Road Trips in Indiana
August 03, 2021
What are the best small towns in Indiana?  
Indiana is a state that's just right: not too big, and not too small. It's full of small towns, in fact, there are more small towns than large cities in the entire Midwest, and Indiana is no exception. There are some towns that seem to come up repeatedly in lists about the best of the best, though, and those towns include Shipshewana, where you'll get a close-up look at Amish life (and their incredible bakeries), and Vincennes, which is a favorite among history buffs. Beverly Shores is another of the best small towns in Indiana, as it was the first-ever Dark Sky City in Indiana.
Which charming small towns in Indiana should I add to my bucket list? 
In three words? All of them! But seriously, there are some we really, really, love, and we're happy to share them with you. Angola is quite wonderful and might just be one of the coolest small towns in the whole Midwest – not just Indiana! Madison is a beautiful town built alongside the Ohio River, and the water views are to die for. Brown County is often called the most beautiful county in Indiana, and the town of Nashville is nestled right in said county, so its definitely one of the bucket list small towns in Indiana.
What are some interesting things to do in Indiana? 
Indiana is a beautiful state with a lot of interesting things to do! Visit the Children's Museum of Indianapolis, which is the largest museum of its kind in the state. While in Indianapolis, make sure to pay a visit to the world-famous Indianapolis Zoo, and the Indianapolis Motor Speedway is another must-do. Our incredible array of national and state parks are also a must-see, especially Indiana Dunes State Park, which is probably the single most unique park in the entire state.