One Of The Oddest Geological Wonders Is Located Right Here In Indiana
Indiana is full of geological wonders – from our incredible and unique dunes to our breathtaking sandstone cut ridges and canyons, there are so many things that will steal the breath from your lungs. One of the most fascinating geological wonders, however, can be found in Shoals, Indiana, and it's one of the strangest naturally occurring structures in the country. This strange geological wonder in Indiana is one of a kind in the Hoosier State.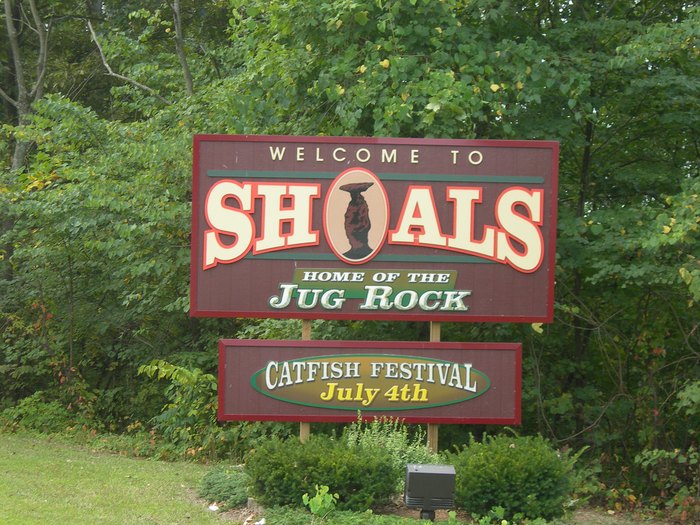 Have you ever seen any of Indiana's geological wonders up close? For more natural wonders, check out this stunning list.
OnlyInYourState may earn compensation through affiliate links in this article.
Address: Jug Rock Nature Preserve, 722 Albright Ln, Shoals, IN 47581, USA
Geological Wonder in Indiana
July 09, 2021
What are some interesting natural wonders in Indiana?  
Indiana is a gorgeous state with plenty of natural beauty to blow you away. The Hoosier State is home to plenty of interesting natural wonders, from cave systems to incredible waterfalls to amazing dunes and lakes. Speaking of dunes, Indiana Dunes National Park is incredible; you wouldn't expect to see something like sandy dunes in the Midwest, but there they are. Lake Michigan is amazing, too; it's a lake so enormous that it looks like you're at the ocean. There are somewhere around 22 waterfalls scattered throughout the state, and you'll love them as much as we do! For some more of our favorite natural wonders in Indiana, check out this article!  
Are there any unique rock formations in Indiana?  
Indiana isn't exactly known for its amazing geology, but that doesn't mean we don't have our own intriguing geological wonders! In fact, there's more than one, which is interesting in and of itself. There's the one you read about above, Jug Rock, but there's also another interesting formation called the Seven Pillars, near Peru. These interesting, stack-like walls along the Mississinewa River were formed by thousands of years of limestone erosion by wind and water.  
What are the most beautiful Indiana waterfalls? 
With 22 to choose from, the list could go on forever! Some of the most picturesque waterfalls in the nation can be found here, like the stunning falls at McCormick's Creek State Park. Cataract Falls, an incredible double-waterfall near Cloverdale, is found time and time again on lists of the best of Indiana waterfalls, and for good reason. They're stunning year-round, and they attract hundreds of thousands of folks every year. Every waterfall at Clift Falls State Park should be mentioned, too, and so should the waterfall at Salamonie River State Forest. The possibilities are endless. Ignore what that song said; you should definitely go chasing waterfalls.