The Scenic Road Trip That Will Make You Fall In Love With The Beauty of Indiana All Over Again
It's no secret that Indiana is an incredibly beautiful state. Whether you live here or are just visiting, there's no way you haven't caught yourself admiring something beautiful around these parts before, whether it was our awe-inspiring waterfalls, enchanting forests, fascinating covered bridges, or anything in between. If it's been a little while, though, we've gone ahead and created this handy scenic road trip in Indiana trip that'll help you fall in love with the most beautiful parts of the Hoosier State all over again. You can follow along by utilizing this handy map with directions we've made for you. Get in the car and let's go – this is going to be awe-inspiring!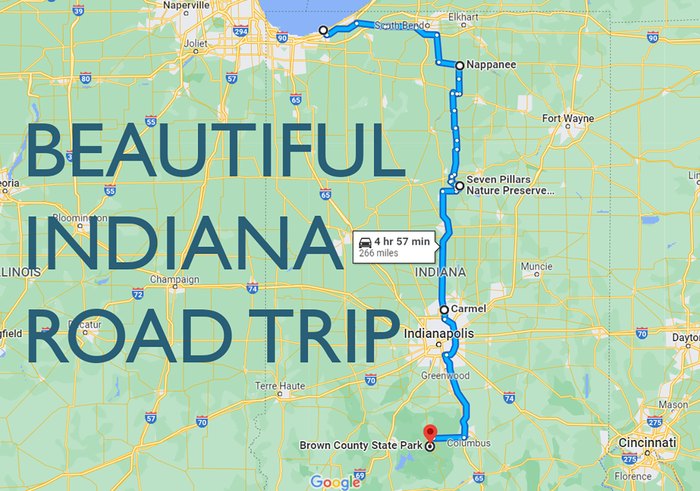 So, what do you think? Any plans to embark upon this epic road trip in Indiana? Or, Have you already enjoyed some of these amazing spots? Either way, we'd love to read about your experience in the comments section below!
For more scenic adventures in Indiana, you might consider trekking along some of these amazing hiking trails.
Still clamoring for more Indiana beauty? Then check out this backpacking video:
OnlyInYourState may earn compensation through affiliate links in this article. As an Amazon Associate, we earn from qualifying purchases.
More to Explore
Adventures in Indiana
What are some fun things to do in the winter in Indiana?
Central Park Plaza – Every winter this Indiana favorite located in Valparaiso offers ice skating and skating events.
Whitewater Valley Railroad – The annual Christmastime North Pole train ride in Connersville is a popular attraction.
Martinsville Candy Kitchen – This family-owned candy shop has been located in Martinsville and is over 100 years old. The confections are amazing in the winter, as well as all year-long.
Read on to learn more about some fun things to do in the winter in Indiana.
What are some of the best places to go hiking in Indiana?
Turkey Run State Park – Located in Marshall, the park is home to The Grand Canyon of the Midwest and features a thrilling suspension bridge.
Pokagon State Park – Located in Angola, this park features a wide array of trails, most of them perfectly suited for beginners.
Clifty Falls State Park– Located in Madison, one of the park highlights is a 14-mile loop trail that many folks consider to be one of the best hiking trails in Indiana.
Read on to learn more about some of the best places to go hiking in Indiana.
Where do people travel for day trips in Indiana?
Wilstem Ranch – Located in Paoli, Wilstem Ranch is a one-of-a-kind elephant ranch offering unique opportunities including petting and feeding these beautiful creatures.
White Rock Park – Located in St Paul, the park is home to a natural sapphire pool where visitors can cliff dive, fish, zipline, and swim.
Berne – Berne is a charming former Swiss town that has managed to maintain a great deal of its early history. A great place to start is the interactive museum here.
Read on to learn more about some of the best day trips in Indiana.
Related Articles