10 Awesome Corn Mazes In Indiana You Have To Do This Fall
Ah, corn. Yes, it's fall in Indiana and we're discussing this topic again. If you know anything about our state, it really shouldn't surprise you to learn that there are a lot of corn mazes in Indiana that pop up during the fall season. I don't know about you, but I love a challenging corn maze. Corn mazes are even more fun as Halloween comes closer and you can get the stuffing scared out of you while you're trying to solve the maze.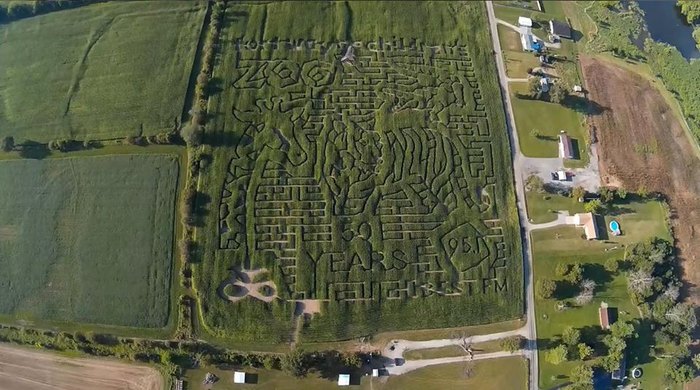 Some of these corn mazes in Indiana open earlier than others, so you can start looking up their dates for this year as soon as you decide what area works best for you and your family. It's a good idea to mark your calendars if you're thinking about taking your family to one of these to celebrate fall in Indiana. Do you know about any other corn mazes in the state? Please tell me about them in the comments.
Address: 15463 Co Rd 46, Goshen, IN 46526, USA
Address: 2301 Strawberry Rd, Rockville, IN 47872, USA
Address: 3150 Co Rd 43, Waterloo, IN 46793, USA
Address: 6042 Newcastle Rd, Lafayette, IN 47905, USA
Address: 2304 E Main St, Danville, IN 46122, USA
Address: 5444 N Rutherford Hollow Rd, Scottsburg, IN 47170, USA
Address: 1565 St Johns Church Rd NE, Lanesville, IN 47136, USA
Address: 200 S County Line Rd, Hobart, IN 46342
Address: 5398 N 500 E, Kendallville, IN 46755, USA
Address: 5525 W 300 N, Decatur, IN 46733, USA
Fall Activities in Indiana
August 30, 2022
Where are the best pumpkin patches in Indiana?
When you're looking for fun fall activities, there's nothing more classic than visiting the best pumpkin patches in Indiana! Head to Steele Farms for family-owned autumn fun that's seriously historical. This farm has been around since 1880, and includes a cute market that has lots of other fall essentials as well. Stuckey Farms is a great choice too. You'll have the chance to pick up fantastic pumpkins along with lots of other produce. Russell Farms is also a sweet spot, where you can also enjoy a petting zoo and a country store.
Where can I go apple picking in Indiana?
Hoping for even more idyllic autumn fun? Check out lots of fantastic orchards where you can go apple picking in Indiana this year. Picking your own fresh, crisp apples is a wonderful way to celebrate the beginning of the season, and a sweet way to stay healthy! Pleasant View Orchard in Fairland is an amazing stop, and includes other produce as well. Keep an eye on their calendar for festive fall events. McClure's Orchard in Peru is the place to go for delicious baked goods and all kinds of autumn gourds.
Where are the best fall hikes in Indiana?
Taking the best fall hikes in Indiana is one of the best ways to enjoy the new, refreshing season. Make your way to Brown County State Park's Trail 2 for a stunning walk through some incredible fall foliage. There's no match for those vibrant colors! Turkey Run State Park's Trail 3 is another amazing spot to see the colorful natural beauty that autumn brings along with it. Potato Creek State Park features Trail 4, where you can enjoy the fall scenery while also taking in lovely water views.
Address: 15463 Co Rd 46, Goshen, IN 46526, USA
Address: 2301 Strawberry Rd, Rockville, IN 47872, USA
Address: 3150 Co Rd 43, Waterloo, IN 46793, USA
Address: 6042 Newcastle Rd, Lafayette, IN 47905, USA
Address: 2304 E Main St, Danville, IN 46122, USA
Address: 5444 N Rutherford Hollow Rd, Scottsburg, IN 47170, USA
Address: 1565 St Johns Church Rd NE, Lanesville, IN 47136, USA
Address: 200 S County Line Rd, Hobart, IN 46342
Address: 5398 N 500 E, Kendallville, IN 46755, USA
Address: 5525 W 300 N, Decatur, IN 46733, USA