The Most Affordable Indiana Road Trip Takes You To 4 Stunning Sites For Under $100
If you're anything like us, you enjoy a good old-fashioned day on the road. There's just something about road trips that are especially magical, and we are hopelessly obsessed. In the past, we've brought you some outstanding ones, like the spectacular Indiana waterfalls road trip, but let's be honest: sometimes, depending on distance, gas prices, and whether or not you'll need a hotel, the costs can add up. So, that's why we've created this: a delightful one-day adventure where you'll visit four of the most beautiful state parks in Indiana all for under $100 – theoretically, this includes the cost of gas, as you'll be driving just 146 miles one-way and most (not all, but most) vehicles should be able to do two ways on one tank. So gas up and let's head out – we've got some fantastic state parks to check out on this delightfully affordable road trip in Indiana. Visit Google Maps to follow along.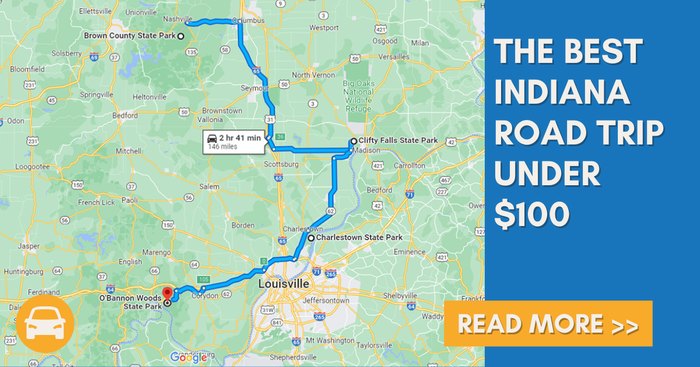 So, how much will admission for each of these stops cost? Easy: Indiana state parks cost $7 for a vehicle with in-state plates and $9 for vehicles with out-of-state plates. This puts the total cost of admission for the day at $28 for in-state residents and $36 for out-of-state visitors. Add that to the cost of gas and you've got yourself a delightfully affordable road trip in Indiana you'll never forget!
Address: Charlestown State Park, 12500 IN-62, Charlestown, IN 47111, USA
Address: Brown County State Park Road, Brown County State Park Rd, Nashville, IN 47448, USA
Address: Clifty Falls State Park, 2221 Clifty Dr, Madison, IN 47250, USA
Address: O'Bannon Woods State Park, 7234 Old Forest Rd, Corydon, IN 47112, USA