9 Picturesque Trails In Idaho That Are Perfect For Winter Hiking
There's nothing the average Idahoan loves more than getting out of the house to enjoy the beautiful destinations and plentiful nature that abounds in the Gem State. But if you're not an avid skier, snowboarder, or powder enthusiast, Idaho's long winters can feel like a time-warp of grey skies and frigid temps. Fortunately, there's no need to hibernate all season. All you need to enjoy the fresh snowfall is a few extra layers, some sturdy boots, and an adventurous spirit. The best winter hikes in Idaho are waiting for you and we've put together this list of some of our favorites.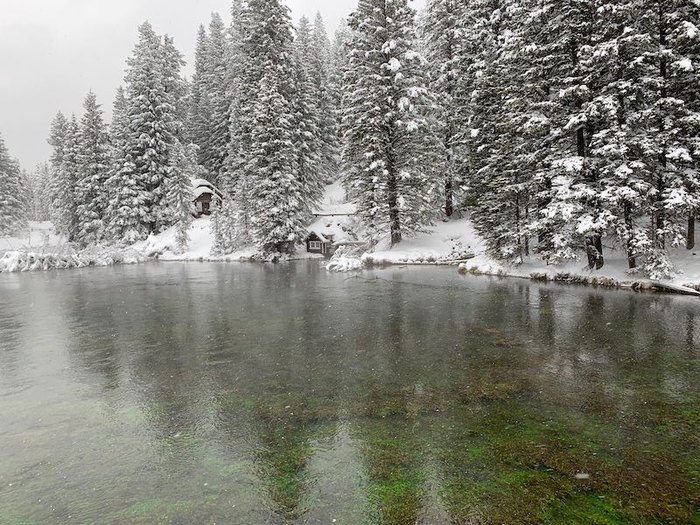 These are some of Idaho's most prominent winter hikes, but there are hundreds of less-traveled gems for you to explore this season. For an extended hike that leads to some of Idaho's best winter hot springs, check out this hot springs trail. Now, pick a hike, bundle up, and get out there!
In your opinion, what are the best winter hikes in Idaho? Did they make our list? We'd love to hear your thoughts in the comments!
OnlyInYourState may earn compensation through affiliate links in this article.
More to Explore
Best Winter Hikes in Idaho
What are some things to do in the winter in Idaho?
While the weather may be chilly, it doesn't mean you want to stay cooped up inside. There are all types of winter outdoor activities in Idaho for you to enjoy. Some are very relaxing and peaceful, while others will get your heart racing and your adrenaline pumping.
If you are searching for relaxing things to do in the winter in Idaho, consider a visit to a hot springs resort. There are several resorts scattered around the state including Lava Hot Springs and Burgdorf Hot Springs. We recommend a visit to Mundo Hot Springs near the small town of Cambridge. Here, you can soak in the warm mineral water, eat a delicious meal at the on-site restaurant, and stay in one of the many accommodations on the property.
How about a road trip? A winter road trip is the perfect way to get out of the house on a chilly weekend. Plus, there are some incredible views waiting for you around the Gem State. We created a road trip that takes you around southeastern Idaho. On this winter road trip, you will have 5.5 hours of drive time. You will begin and end this road trip at some delightful year-round hot springs in Idaho.
If you are considering adrenaline-pumping winter outdoor activities in Idaho, head to a ski resort. There are more than a dozen ski resorts in Idaho and each offers a number of outdoor activities. While you can always hop on a ski or snowboard, many resorts also offer snow tubing. If you want something a little more calm and relaxing, consider a stay at Sun Valley Ski Resort where you can hang out in the lodge and even take a gondola ride to The Roundhouse, a mountain-top restaurant.
Another adventure you can have outdoors during the winter in Idaho is on a one-of-a-kind dog sled ride. Capture stunning winter views behind a team of dogs. You'll get to experience the winter in the mountains like never before and with some of the most lovable companions. It will become an unforgettable adventure.
Related Articles
Explore Idaho