The Most Epic North Idaho Waterfalls Road Trip Is Here - And You'll Want To Do It
Northern Idaho, we have arrived! Idaho's Panhandle is awesomely blessed with an abundance of tree-lined mountains and a cooler climate. This near-perfect combination of natural elements not only makes for an idyllic getaway but combines to create some absolutely breathtaking waterfalls around virtually every corner. During spring run-off these falls are at the height of their glory as they come cascading over rocky precipices in stunning ethereal sprays.
In fact, Northern Idaho is so filled to the brim with waterfalls that this road trip is by far the longest we've published so far, taking courageous Idaho travelers just shy of the Canadian border and back, making it ideal for an extended three or four-day weekend (see note below). At more than 350 miles and 12 hours of drive time, you'll be guided to nine awesome cataracts, with the opportunity to see a dozen or so more along the way. If you're ready to check out some of our state's most epic falls to date, just follow along!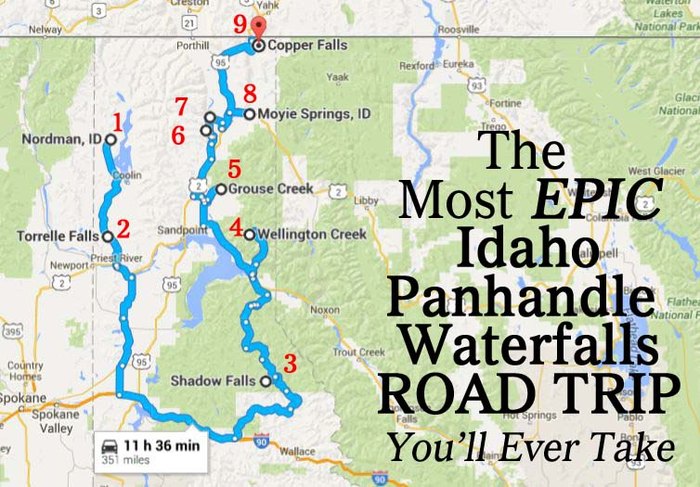 You'll notice that this trip doesn't make a complete loop as our road trips normally do. Due to the impassive nature of Idaho's uppermost landscape, a series of detours are necessary to return to your original starting point. However, this allows you to make this adventure your own by taking a quick hop into Canada or spending some time camping in Idaho's hidden recesses. The choice is yours! Rounding out the trip back to Nordman will bring the trip to over 450 miles total. If you know of any shortcuts, let us know!
When you've finished this adventure, take in even more scenic sights by experiencing the magic of the International Selkirk Loop.
OnlyInYourState may earn compensation through affiliate links in this article. As an Amazon Associate, we earn from qualifying purchases.
More to Explore
Waterfall Road Trips In Idaho
What are some natural wonders I can visit in Idaho?
The Gem State is filled with natural wonders throughout. The good thing is that you can visit several of them for free. In our article highlighting free natural wonders in Idaho, you'll learn about the City of Rocks Natural Reserve, Lake Pend Oreille, and Hagerman Fossil Beds, among some other incredible natural wonders. 
What are some of the best trails for hiking in Idaho?
You don't always have to trek a long way to find beauty and some of the best views in the state. In fact, there are many shorter hikes that just about anyone can do and, best of all, lead to some incredible scenic destinations. Check out our previous post highlighting easy hikes in Idaho to plan your next hike!
What are some of the most beautiful lakes in Idaho?
From a lake with the clearest water to a lake with some of the bluest water, you'll find incredible beauty among most of the 2,000 lakes throughout the state. 
Related Articles
Explore Idaho