Here's The Ultimate Terrifying Idaho Road Trip
Idaho is certainly worthy of paranormal attention. Our history as a mining and encampment state, where all too many men and women perished without family to claim them, has resulted in dozens of structures and areas said to be haunted by the spirits of their former inhabitants. Many of these spaces have undergone attempts at revival in hopes of chasing the restless departed and their memories away, but the stories remain and the investigations continue to this day.
If you enjoy creepy thrills, urban legends, or the subtle terror that comes from the exploration of long-forgotten urban spaces, then a chilly evening spent wandering these areas as the wind rustles the leafless trees should do the trick — but beware. This road trip will take you all across Southeast Idaho's most terrifying and "active" areas. So grab a flashlight, grab a friend, and be prepared to spend a few spooky evenings exploring some of the area's most well-known haunted spaces on this creepy road trip. If you dare…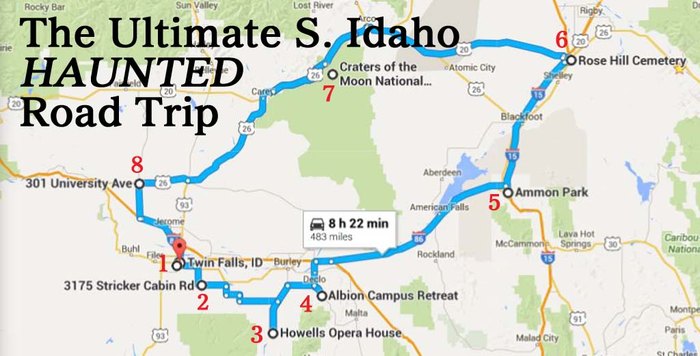 There are plenty more paranormal hotspots in Southern Idaho to add to this list! Once you've survived the trip, consider gearing up for a drive waaay up north for a spooky overnight at Farragut State Park in Athol. Be sure to let us know about any haunted sights you find along the way!
Address: Twin Falls, ID, USA
Address: 136 Maxwell Ave, Twin Falls, ID 83301, USA
Address: 3175 Stricker Cabin Rd, Hansen, ID 83334, USA
Address: 160 Blaine Ave, Oakley, ID 83346, USA
Address: 437 E North St, Albion, ID 83311, USA
Address: Ammon St, Pocatello, ID 83201, USA
Address: 2355 Rollandet St, Idaho Falls, ID 83402, USA
Address: Craters of the Moon National Monument & Preserve, Idaho, USA
Creepy Road Trip In Idaho
February 22, 2021
What are the most haunted places in Idaho?
If you're on the hunt for the most haunted places in Idaho, you won't have far to look. Our beautiful state is brimming with haunted destinations. Howells Opera House in Oakley, for example, is said to be home to the spirit of a long-gone actress. Don't be too surprised then, if you're visiting and you hear a female voice, but no one is close by. It's probably just the resident ghost. Ammon Park in Pocatello is a fun destination for families, but you might experience the paranormal if you visit at night. That's right. A young girl, in a blue dress, is often seen in the park, usually on a swing, late at night. She usually disappears in the time it takes you to blink.
Can I hike to any abandoned places in Idaho?
Idaho's home to quite a few abandoned places, some of which we're fortunate enough to be able to explore. If you're up for a hike that tallies nearly five miles, follow the path that leads to the historic Adelmann Mine near Boise. The out and back trail boasts an abundance of natural beauty, including wildflowers and lush green, and its highlight is the mine. All hikers are strongly encouraged to admire the mine from a safe distance as attempting to enter the mine could be dangerous. Definitely bring your camera along to document your journey.
What are the creepiest cemeteries in Idaho?
Cemeteries are, in general, peaceful places we go to visit our loved ones who have passed on. Some, however, give off a creepy vibe, and that's usually because they've got paranormal tales attached to them. Have you been to any haunted cemeteries in Idaho – like Morris Hill Cemetery in Boise? If you're really brave, you might want to think about visiting this haunted cemetery. (The mausoleum is said to be particularly haunted.) Not too surprising, but if you visit Idaho State Penitentiary Cemetery, also in Boise, you might just run across the restless spirits of some of the prison's former inmates.
Address: Twin Falls, ID, USA
Address: 136 Maxwell Ave, Twin Falls, ID 83301, USA
Address: 3175 Stricker Cabin Rd, Hansen, ID 83334, USA
Address: 160 Blaine Ave, Oakley, ID 83346, USA
Address: 437 E North St, Albion, ID 83311, USA
Address: Ammon St, Pocatello, ID 83201, USA
Address: 2355 Rollandet St, Idaho Falls, ID 83402, USA
Address: Craters of the Moon National Monument & Preserve, Idaho, USA