7 Easy And Beautiful Spring Hikes Everyone In Idaho Will Love
When spring finally begins making an appearance in the Gem State, you know what that means — it's officially hiking season. There's no better way to take advantage of the warmer weather than by completing an easy and beautiful spring hike. While there are hiking trails all over the state, we've compiled a list of some of the best hikes in Idaho to tackle during the spring months. These hikes are simple enough for the entire family to enjoy but boast some gorgeous views that you won't soon forget.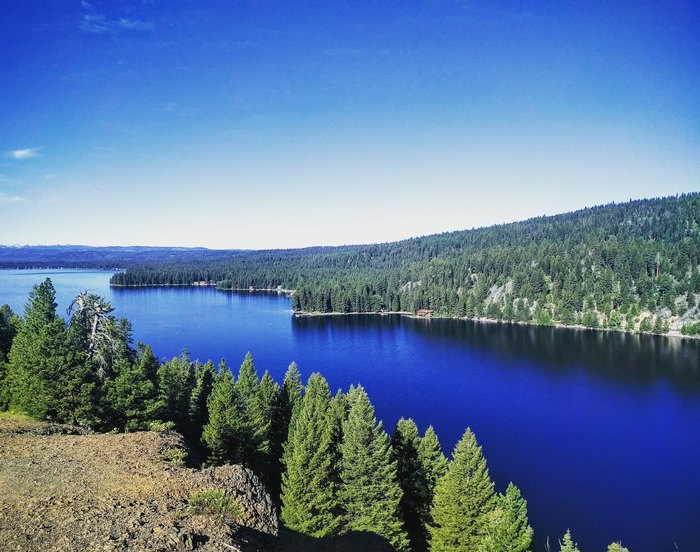 What do you think are the best hikes in Idaho? Is spring the best time to explore the Gem State? It's this time of year that wildflowers are blooming and our landscapes have never looked more beautiful. We'd love to hear your thoughts in the comments! Don't forget to check out this wildflower trail through Idaho that we put together so you can enjoy these lively scenes!
OnlyInYourState may earn compensation through affiliate links in this article.
Best hikes in Idaho
March 11, 2022
What are some easy hikes in Idaho?
Idaho is home to a plethora of hikes – some much longer and more difficult than the others. However, if you are searching for easy hikes in Idaho, the hike to Revett Lake must be on your bucket list. This is a 3-mile, round-trip hiking trail in the Idaho Panhandle National Forest. There are only a few small inclines to tackle and the views around you are absolutely mesmerizing. Bring your entire family along and enjoy a delightful day outside together.
The Lydle Gulch Trail at Lucky Peak State Park near Boise is another one of the best easy hikes in Idaho. Here, you will tackle a 2-mile loop trail up one of the ravines in the state park. Along your way, you will capture views of a river, lake, and city — it's absolutely gorgeous.
What are the most scenic hikes in Idaho?
It is hard for us to narrow down the best scenic hikes in Idaho. From up in the panhandle down to the Utah and Idaho state line, you will find scenic hiking trails for every skill level. To help you enjoy many of the best scenic hikes in Idaho, we created this list. There are 12 scenic hikes for you to explore this year, one for every month.
One of our favorite scenic hikes in Idaho is the Table Rock Trail. While still a family-friendly hiking trail in Idaho, there are some challenging areas so be prepared. You will climb nearly 900-feet in elevation, but the views of Boise and the surrounding area are worth every step. Make sure you give yourself plenty of time to enjoy the views at the top.