There Is A Natural Infinity Pool Hiding In The Hawaii Jungle And It Is Incredible
Just minutes away from the bustling state capital of Honolulu – but still within the city limits – is the lush Manoa Valley. This residential area is home to the University of Hawaii at Manoa, receives almost daily rain, and was the site of the first sugarcane and coffee plantations in the Hawaiian Islands. And hidden deep within Manoa Valley are four amazing destinations worthy of a Saturday full of exploration: Manoa Falls, the Lyon Arboretum, the Wailele Manoa, and Mu Ryang Sa Korean Buddhist Temple.
And while these attractions are all incredible in their own right, there is a hidden gem few people even know about: a natural infinity pool carved into the mountainside and overlooking this lush valley, Honolulu, and the Pacific Ocean, and it's the wondrous Upper Manoa Falls.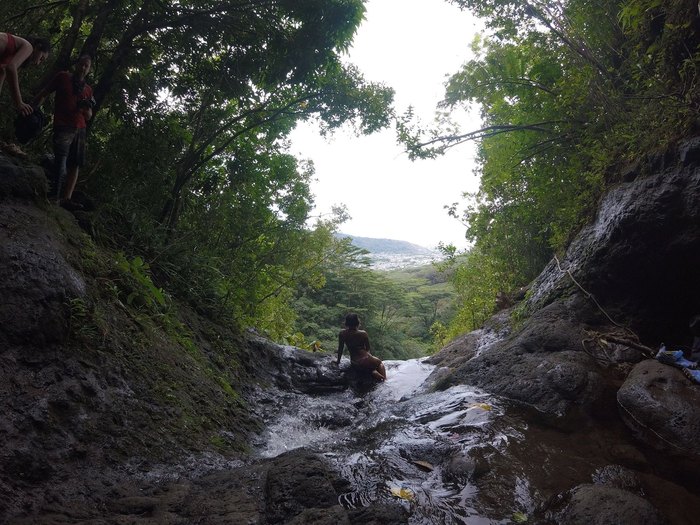 Not ready to visit this gorgeous spot on your own? Why not live vicariously through YouTube user Howzitboy, who documents his hike to Upper Manoa Falls in this video:
Because this incredible destination is a waterfall, it is important to issue a friendly warning about the risks associated with flash flooding, as well as the leptospirosis bacteria found in many of Hawaii's natural pools. It is advised that you check weather reports and ocean conditions before heading out for the day; never swim in these pools when you have open wounds, and always watch your step. Also, please do not overestimate your true hiking abilities: this is not an easy trail, and should only be completed by experienced hikers.
Forget hotel pools; gorgeous swimming holes are where it's at in Hawaii! What are your favorite natural swimming pools in Hawaii? Are there any hidden gems you'd like to see featured on Only In Hawaii? We are always up for a new adventure, especially of the waterfall chasing variety!
And speaking of swimming holes in Hawaii, here are 12 of our favorite spots to cool off.
Address: Manoa Falls, Honolulu, HI 96822, USA
Infinity Pool In Hawaii
August 09, 2022
What are the best waterfall hikes in Hawaii?
Hawaii is known across the world for its amazing waterfalls, and while there are many no-hike falls that can be viewed from highway pullouts or scenic overlooks, there are many, many more tucked away in the lush forests, craggy shorelines, and wondrous jungles of the Aloha State — and hiking is the best way to experience them! These waterfall  hikes in Hawaii are some of those adventures, and many are shorter treks that are accessible to hikers of all abilities and skill levels. Some of our favorite waterfall hikes in Hawaii include the Maunawili Falls Trail, a stunning three-mile trek through lush forests; the hike to Uluwehi Falls, which makes for a picture-perfect day trek in Hawaii; and the hikes to Lulumahu Falls, Hanakapi'ai Falls, and Onomea Falls.
What are the most beautiful waterfalls in Hawaii?
For a show-stopping waterfall sure to take your breath away, venture to the breathtaking National Tropical Botanical Garden, a place that attracts photographers, gardeners, botanists, scientists, and nature lovers from across the world. Protected from harsh tradewinds and blessed with fertile volcanic soil, the stunning 40-acre Onomea Valley is a natural greenhouse that is full of the plants and greenery one thinks of when conjuring up images of the Aloha State: from flowers to trees, more than 2,000 species of flora are found in this gorgeous garden. And in the midst of this real-life Garden of Eden, the small-but-stunning Onomea Falls is a glorious scene that looks too beautiful to be real and is an easy-access waterfall in Hawaii worth seeking out.
Address: Manoa Falls, Honolulu, HI 96822, USA