Take This Road Trip Through Hawaii's Most Picturesque Small Towns For A Charming Experience
With nearly two-thirds of the Hawaiian population residing in Honolulu and the surrounding areas, it can feel as though the entire island of Oahu is one huge city. Luckily, it's not – technically. Whenever you want to escape the hustle and bustle of Honolulu, you can head to any of the island's charming small towns. These small Oahu towns are full of old-world Hawaiian charm, history, adorable shops, and positively breathtaking views. Let's explore the best towns in Oahu! 
From coastal communities to inland cities, this epic Oahu road trip measures in at 76 miles, just under two hours of driving time, and stops in eight of the island's most charming and picturesque small towns – from Wahiawa to Hawaii Kai.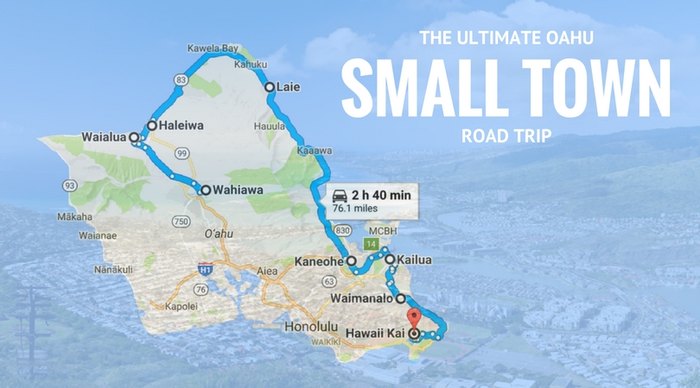 Is there anything better than a good road trip? Perhaps a budget road trip around Oahu, or an Oahu waterfalls road trip?
OnlyInYourState may earn compensation through affiliate links in this article.
More to Explore
Best Towns in Oahu
What are some of the best towns in Hawaii to get away from it all?  
Hawaii is an astonishingly beautiful state with so many things to do and see on each island; it can be hard to know where to begin. Well, why not begin by checking out some of the most delightful small towns in Hawaii? Some of them are adorable beach towns and others are more inland (though they're all on islands, so they're all destined to be amazing). Among our favorite beach towns in Hawaii are Lahaina, on Maui, which is an excellent place for history buffs and lovers of the ocean alike thanks to its rich and fascinating history. Another excellent town in Hawaii to escape to is Kailua-Kona, on Big Island, which is a resort town and often simply referred to as "Kona".  
What are the cute towns in Oahu I should add to my bucket list?  
So, that being said, what about Oahu? Surely there are adorable towns there, right? There are (of course)! Some of our favorite cute towns on Oahu include gems like Haleiwa, which is one of the most popular getaway locations in Hawaii, where you can check out local culture, history, and more – all with a jaw-droppingly beautiful view pretty much no matter where you are. Of course, we couldn't get away with talking about getaways in Oahu, Hawaii without mentioning Waikiki, which is the most popular destination for visitors and locals alike and easily one of the most scenic places in Hawaii. It NEEDS to be added to that bucket list ASAP.  
Where are the best towns in Oahu Hawaii for a romantic getaway?  
Hawaii is easily recognized as one of the best states for a romantic getaway, and it's pretty obvious as to why. It's truly the picture-perfect image of paradise, and to think it's one of the states in our beautiful country (how lucky)! Some of the best small towns in Hawaii for a romantic escape include Princeville's North Shore, on Kauai. It's home to some of the best resorts in Hawaii and some of the most incredible beaches in Hawaii as well. You can't miss that one – it's perfect for anniversaries, weddings, and more, though you'll want to book well in advance due to its overwhelming popularity. North Shore Oahu is also picturesque and breathtaking – definitely worth a trip!  
Related Articles