This Rare Footage Shows The Attack On Pearl Harbor Like You've Never Seen Before
December 7, 1941: A day that lives in infamy as one of the most tragic attacks on United States of America soil, and the event that launched our great country into World War II, in both European and Pacific theaters. The Japanese Imperial Navy attacks against U.S. Naval Base Pearl Harbor, which began at approximately 7:48 a.m. Hawaiian Standard Time, killed approximately 2,400 Americans and wounded another 1,170. The attacks damaged all eight U.S. Navy battleships, three cruisers, three destroyers, and anti-aircraft training ship, and one minelayer.
Today, on the 75th anniversary of the attack on Pearl Harbor, we are sharing the only known color footage of that fateful day, as well as nine rare photographs of December 7, 1941 with the hope that we can reflect upon this tragic time in American history and give thanks to those who made the ultimate sacrifice for the country we love so dearly.
This original footage was shot by Chief Warrant Officer, 4th Grade Clyde Daughtry on December 7, 1941 and claims to be the only color footage of the attack on Pearl Harbor. Because the video uploaded to YouTube by CVL23USSPRINCETON is a copy, the quality has severely degraded.
Though unsettling, these nine photographs give you a more clear glimpse into the tragedy that was the Japanese attack on Pearl Harbor.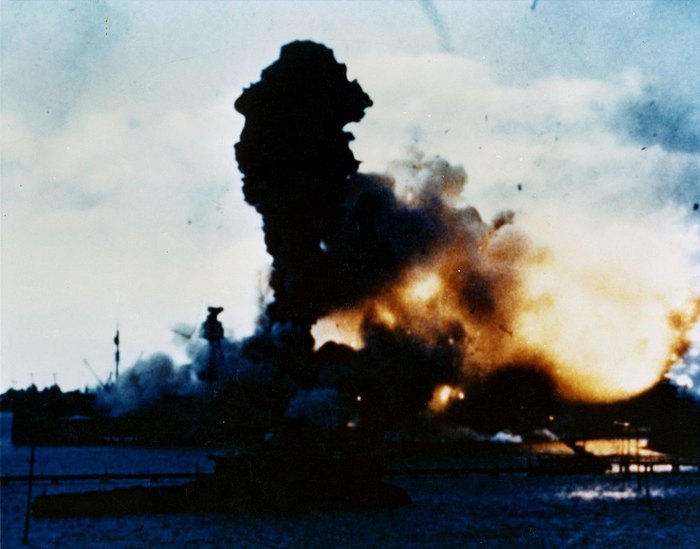 For another glimpse into the tragic day will live on in infamy, please consider checking out these "14 Rare Photos From The Attack on Pearl Harbor You've Never Seen."
OnlyInYourState may earn compensation through affiliate links in this article.