This Hawaii Blowhole Is The Coolest Thing You'll Ever See For Free
From pristine beaches and enchanting sea caves to lava rock shorelines and mesmerizing blowholes, you'll find countless natural wonders near Hawaii's 750 miles of stunning coastline. Blowholes are formed when a joint between a sea cave and the land surface above the cave becomes enlarged. When the roof of the sea cave collapses due to erosion, a blowhole is made. When the ocean's waves enter the mouth of the underwater cave, the water is funneled up towards the blowhole, erupting into the air. Luckily for us, the Hawaiian Islands are home to several incredible blowholes — including our personal favorite, Halona Blowhole.
Before we dive in, we should warn you about the dangers of blowholes. The surging waters found near these stunning blowholes are wildly dangerous; you should always keep your distance and stick to the official viewing area if there is one. Without further ado, let's check out this breathtaking blowhole.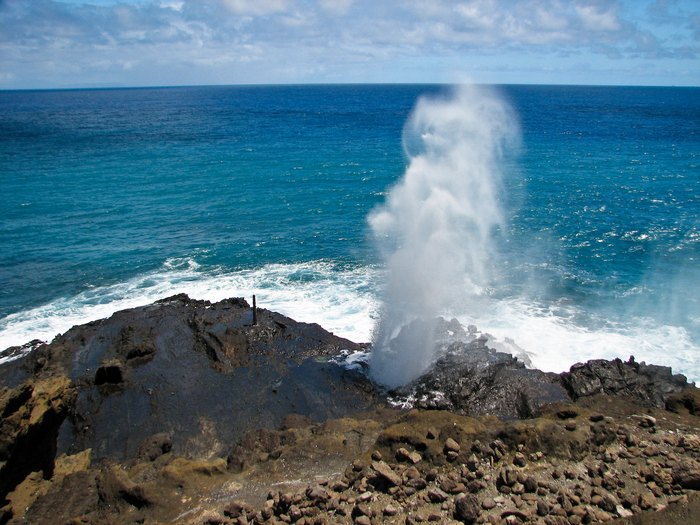 The Halona Blowhole Lookout is located along the Kalanianaole Highway in Honolulu. Have you ever visited this stunning natural wonder before? Share your experiences and opinions in the comments below, and then check out this article to discover an unusual Hawaii hike that leads you through a steam forest! The natural wonders to be found in Hawaii are just amazing.
OnlyInYourState may earn compensation through affiliate links in this article.
Address: 8483 Kalaniana?ole Hwy, Honolulu, HI 96825, USA
Things To See And Do In Hawaii
January 09, 2023
What are some things to do for free in Hawaii?
While Hawaii is filled with plenty of visitors who come willing to pay for the beaches and activities that the Aloha State is so well known for, it's good to remember that there are plenty of
things to do for free in Hawaii
that anyone can enjoy. A few activities for this list include:
Learn about Hawaiian plant life at any of the botanical gardens across the islands
Go for a drive, such as Maui's Road to Hana
Take a hike! There are countless trails and parks to explore
And of course, just head to the beach!
What are some of the best hikes to take in Hawaii?
When it's suggested to take a
hike in Hawaii
, it's easy to feel overwhelmed by the numerous options. To get started, here are what many consider to be some of the best hikes on the Hawaiian Islands:
Thurston Lava Tube in Hawaii Volcanoes National Park
Diamond Head Crater in Honolulu
Lava Tree State Monument on Hawaii
Dragon's Teeth Trail on Maui
Where are some of the most beautiful places in Hawaii?
This may seem like a silly question because let's be honest – there is not a place on the Hawaiian Islands that is not considered beautiful. But just for fun, let's take a look at some wild and
beautiful places in Hawaii
that are worth a visit. How many are you familiar with?
Alakai Swamp Trail on Kauai in Koke'e State Park
The Redwood Forest within Polipoli State Park on Maui
Kaumana Cave in Hawaii Volcanoes National Park
Munro Trail, just north of Lanai City, on Lanai
Waimea Canyon State Park on Waimea
Lithified Sand Dunes in Kauai
Kaihalulu Red Sand Beach on Maui