Take This Unforgettable Road Trip To Experience Some Of Hawaii's Most Impressive Caves And Waterfalls
The Hawaiian Islands are perhaps most well known for their stunning white sand beaches, crystalline turquoise waters, and palm trees swaying in the breeze, but almost more spectacular are the mountains, waterfalls, and caves you'll find across this island paradise. So, in an attempt to honor these natural oases for their beauty and give them the recognition they deserve, we've curated an epic road trip to find waterfalls near me in Kauai that will lead adventure seekers to four waterfalls and three caves — all of which are worthy of a little exploration and plenty of awe. This is one road trip you're definitely going to want to put on your Hawaii bucket list!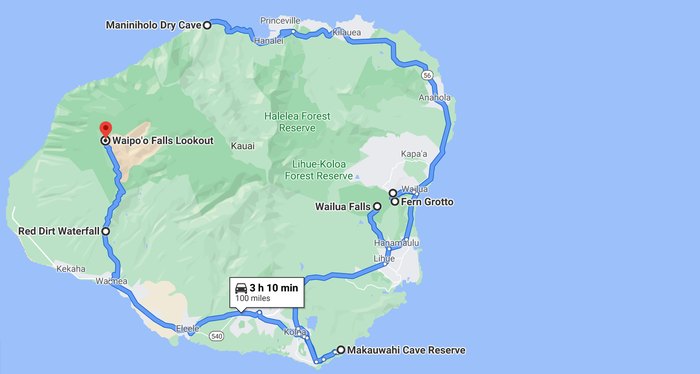 To access the Google Maps created for this road trip, click here. Have you ever experienced the wonder of these Kauai caves and waterfalls? Are you looking for waterfalls near me in Kauai? Sound off in the comments and join our Hawaii Nature Lovers Facebook group to share photographs of your own.
If you're looking for more stunning places to see what Kauai has to offer, be sure to check out The Most Remote, Isolated Spot In Hawaii And It's Positively Breathtaking.
OnlyInYourState may earn compensation through affiliate links in this article.
Waterfalls near me in Kauai
March 25, 2022
How many waterfalls are on Kauai?
Kauai, aptly named the "Garden Isle," is home to countless waterfalls from the intense rainfall and lush vegetation the island experiences. With 11 amazing and documented waterfalls on the island, there's also thousands more small and remote enough to not be named, but that also exist. It's hard to travel anywhere on this island and not see a waterfall!
How do I get to Fern Grotto Kauai?
The best way to get to the Fern Grotto is one of the many boat cruises that offer transportation to this area. Book one, sit back, and relax as you enjoy some of the prettiest scenery on Kauai.
What are the best waterfalls in Hawaii?
Some of our favorite waterfalls in Hawaii include:
Sacred Falls
Akaka Falls
Waimoku Falls
Hanakapiai Falls
Papalaua Falls
Waianuenue Falls
Wailua Falls
Waipoo Falls, and
Oloupena Falls -- the tallest waterfall in Hawaii!