Go Glamping At These 7 Campgrounds In Georgia With Yurts For An Unforgettable Adventure
Into camping but not big on the idea of sleeping in a tent? Glamping is a great option for you! This more glamorous form of camping is the ideal middle ground between a hotel or luxury cabin and roughing it in a tent. One unique option for glamping is staying in yurts in Georgia. These structures are sturdier than pitched tents and typically have electricity and beds. You can find them at many yurt campgrounds in Georgia. Here are a few spots where you can check them out: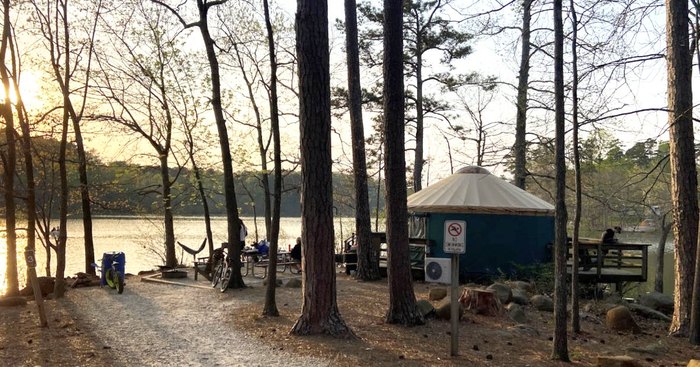 A fun way to enjoy the outdoors without messing with a rough night's sleep is by staying at one of these luxury glamping spots. Have you stayed at any of these yurts in Georgia, or do you prefer roughing it in a tent? Share your experiences with Georgia yurts in the comments!
For some of the most incredible outdoor adventures in Georgia check out our Nature in Georgia Hub for all of our best nature-themed articles.
OnlyInYourState may earn compensation through affiliate links in this article.
Yurt Campgrounds in Georgia
April 11, 2023
What are the best campgrounds in Georgia?
The Peach State is full of surprises, and in addition to the yurt campgrounds listed above, here are a few more of the best campgrounds in Georgia:
Stephen C. Foster State Park. This Peach State Park is highly regarded for its superlative outdoor recreation -- including kayaking, hiking, birding, and canoeing -- but this natural wonder takes on a completely different identity come dusk. This remote park and its 400,000-acre Okefenokee Swamp, one of the great Natural Wonders in Georgia, boast some of the darkest skies in the South. Approved by the International Dark-Sky Association, Stephen C. Foster State Park is one of the most celebrated places to view the stars clearly and with unobstructed views.
Providence Canyon State Park is home to a stunning "grand canyon" that's simply sublime. This 1,000-acre expanse is considered one of the most glorious natural wonders in Georgia and attracts visitors from all over the South looking to hike, walk, wander, and immerse themselves in nature. To this end, the park's campground attracts intrepid overnight adventurers seeking a peaceful night at one of the best campgrounds in Georgia. While many people visit Georgia's Little Grand Canyon for the day to get in some quality hiking, there are campsites hidden within the park that allows visitors the option to stay and enjoy the views for more than just the day, which is an opportunity you shouldn't pass up.
Little Raccoon Key. Eco-friendly, luxurious, *and* totally secluded? It's time to start planning your most exciting camping adventure yet! In the glorious Golden Isles of Georgia, Little Raccoon Key offers what is easily one of the most incredible camping experiences in the state. Not only is this one-of-a-kind glampground in Georgia immaculate and eco-friendly, but it also offers you endless natural beauty that only The Peach State can provide. This region of pristine, untouched perfection is a real-life Georgia oasis, and Little Raccoon Key is nestled in the heart of it all.
Known for peaches and Southern charm, Georgia just might be the most underrated state in the country when it comes to outdoor recreation … specifically camping. The Peach State is a dark horse in terms of beautiful campgrounds, with its 50 unique state parks offering some of the most superlative camping in the U.S. Did you know that Georgia was home to one of the top Dark Sky Parks in the entire country? Or that the state was home to some of the most remote and resplendent islands in the South?