This is One of the Least Popular Waterfalls in Georgia and We Can't Fathom Why
Waterfalls are one of the top attractions during springtime for the state of Georgia, and a quick google of "waterfalls near me" will come up with a multitude of results. We have so many different types of waterfalls throughout the state, it is hard to visit them all. But truthfully, most people tend to stick to those waterfalls that top the list for "best of" and seem to forget about the little guys. There is one particular waterfall in Georgia that seems to be one of the least popular, or at least one of the lesser known in the state, and we just cannot fathom why. See for yourself…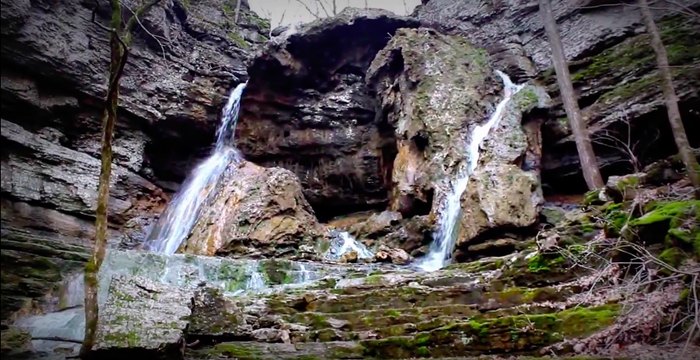 Thanks to YouTuber DanaBeezer, we have a front row seat at this little known waterfall in Georgia.
If you loved this hike and are interested in learning a bit more about another stunning trail, then take a look at our coverage of this wildflower trail.
OnlyInYourState may earn compensation through affiliate links in this article.
More to Explore
Waterfalls Near Me
What are some other waterfalls to visit in Georgia?
It's hard to believe but there are over 700 waterfalls in Georgia, and those are just the documented ones! With so much uncharted nature out there there are sure to be some whos existence has yet to be recorded. These falls range in size from tiny little trickles in creeks to massive ones the size of small buildings. If you are looking to be inpressed by sheer size, then you may want to visit Amicola Falls in the mountains of Northeast Georgia. At a jaw-dropping 729 feet tall, this waterfall will take your breath away. Another dreamy waterfall worthy of your time are the Helton Creek falls, which require just a 0.2 mile stroll to get to. For more waterfall inspiration we recommend taking this awesome waterfall road trip.
Can I hike to historical places in Georgia? 
Georgia has seen a lot of history, both good and bad, and much of it happened out in nature, so there are a lot of great trails you can take that will lead you to historical lands, ruins and remains that are sure to ignite your historical curiosity. You can find an old firetruck being overtaken by nature on the Emery Creek Trail, or you can take the Dolls Head trail to see impressive reclaimed art. If you are interested in ruins, then the Sope Creek trail might be right up your alley, with the ruins of an old paper mill waiting to be discovered. Our article about abandoned spots in Georgia covers these places and more.
Are there any swinging bridges in Georgia? 
Georgia is actually home to the longest swinging bridge East of the Mississippi, so the answer to this question is a resounding "yes!" Hop on the Taccoa River Trail in Chattahoochee National Forest to discover a 270-foot-long bridge. This trail is over eight miles long and is for hikers of moderate or higher ability, so it is a little tough, but the water views from this bridge, and the novelty of the experiences makes it more than worth the steps. You can take a look at our article about this swinging bridge in Georgia if you want to learn more.
Related Articles
Explore Georgia
Featured Addresses

Pocket Falls, PJ5F+MQH, LaFayette, GA 30707, USA